Hair has a vital role in defining an individual's personality. Hair disorders like hair loss, thinning, and baldness heavily impact appearance and confidence. Such hair problems can be heart-breaking, especially for individuals who appear on-screen or whose career demands a well-groomed look. Hair transplant in Jaipur is the finest alternative accessible to them.
In Jaipur, hair transplant has acquired much attention due to technological advancements and material posted on the internet every day. There is a lot of inaccurate and misleading information available in the pool of knowledge. It can lead to misunderstandings and doubts.
Even though most hair transplant surgeons in Jaipur perform hair transplant with minor invasive procedures and have many advantages, there are many myths and misconceptions about it. Thus, many hair issues such as hair thinning, receding hairline, and hair loss are often misunderstood and overlooked.
So, let's debunk some common hair transplant myths and dispel some popular misconceptions about this excellent hair restoration approach.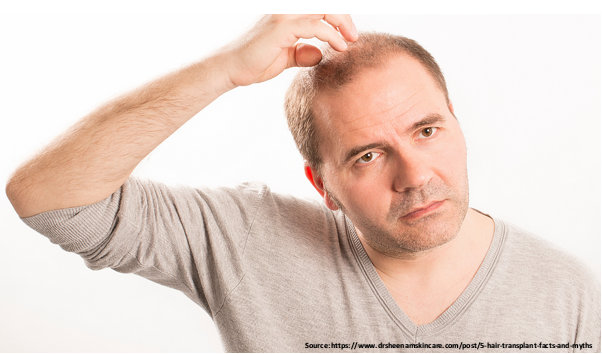 Myth #1: Hair transplantation is a painful procedure.
Fact: Hair transplantation is now more comfortable. Thanks to recent advancements in the cosmetic sector. The entire procedure is performed under local anaesthesia. Hence, you can rest assured that you will not feel any pain during the process until the anaesthesia wears off.
There will be some soreness in the transplant site until the local anesthetic wears off. However, with the prescribed medications, the discomfort may be managed. You also don't need hospitalization and can go home the same day.
Myth #2: Hair transplantation produces an unnatural look.
Fact: Hair transplants conducted by a proficient hair transplant surgeon can produce 100% natural results. Because a qualified surgeon carefully examines the position of the follicle and angle of the hair. The grafting is done in a way that looks completely natural. After the procedure, you can trim, wash, and style your hair as you wish.
Myth #3: Hair transplants provide immediate results.
Fact: Hair transplantation does not yield instant effects or transform your image overnight. After three weeks, the transplanted hair starts falling. But the hair root remains intact and strong. These roots roughly take 4 to 5 months to grow and 9 to 12 months for maximum development. Hence, you must be calm and know that implanted hair, like natural hair, undergo several growth phases.
Myth #4: Only men can receive hair transplants.
Fact: Once, it was thought that baldness only occurs in men and only they can undergo a hair transplant. However, nowadays, women are also afflicted by baldness. They, too, are applicants for female hair transplantation.
Myth #5: Hair transplantation is an expensive procedure.
Fact: True, the hair transplant cost in Jaipur is slightly expensive, but that doesn't mean it is out of reach. The most recent improvement in the cosmetic sector has reduced machine prices, making it affordable to all people. Remember, hair transplantation is a one-time investment that yields excellent long-term benefits.
Myth #6: Hair transplants leave scars.
Fact: After surgery, linear scars were previously quite evident. However, technological advancements have decreased the appearance of post-surgical scars. In FUT, only a small scar can be seen, which may be easily hidden by the surrounding hair.
So, you must choose a competent surgeon who prioritizes minimum scarring. If they use advanced techniques like FUE or DHT, there is a low risk of scarring. Good outcomes make patients happier. It also increases their confidence in displaying their restored hair.
Myth #7: Hair transplantation is not for elderly patients.
Fact: Hair transplantation has nothing to do with age. An individual with hair loss who has sufficient donor area growth and no healing or surgical contraindications can have a hair transplant at any age.
Myth #8: Hair transplantation harms the brain.
Fact: This is the most common and severe myth among people. Hair transplantation does not impair the brain in any way. The skin of your scalp is used for hair transplantation, and it does not penetrate the surface. Furthermore, there is no direct contact with any region of the brain. So, the brain is not affected in any manner.
Hair transplantation is a very effective hair restoration treatment that produces outstanding results. The critical point to remember is, always do some research before visiting any hair transplant clinic in Jaipur. Choose an experienced hair transplant doctor in Jaipur as they are the only ones who can provide the desired outcomes.