Hair loss occurs in both men and women due to varying reasons such as alopecia, genetics, age, hygiene, cancer treatment, etc. In general, hair loss is rapid and causes baldness which can only be fixed by performing a hair transplant.
At this hair transplant clinic in Jaipur, we use the latest hair transplant technique, i.e., FUE and DHT. Our highly qualified hair transplant surgeon in Jaipur - Dr. Deepesh Goyal, along with our technicians give 100% result to every hair transplant procedure at the affordable cost of hair transplant in Jaipur. They strive for your satisfaction and safety.
Rejuvena Cosmo Care is a well-equipped clinic with expert cosmetologists and trained staff. You can trust Rejuvena Cosmo care to do a thorough hair transplant procedure with promised results which of permanent hair growth.
Types of hair transplant available at Rejuvena Cosmo Care:
Hair transplant in the process of transplanting healthy hair grafts to the bald area. And there are various methods of doing at this hair transplant clinic in Jaipur: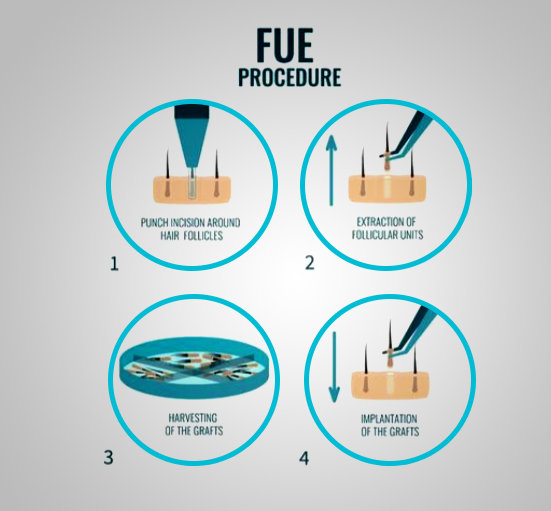 The latest, least painful, and efficient technique of hair transplant in Jaipur is the Follicular unit extraction (FUE). Every graft is individually removed and transplanted in the bald area. It is a semi-invasive technique. Both men and women can go ahead with this method of hair transplant. This procedure requires tiny incisions to be made on the scalp hence there is no scarring and it heals faster too. You can cut your hair small and style it as per your liking. Most hair transplant results are long-lasting and require very less maintenance. The per graft cost in FUE hair transplant is Rs. 20/-, costing around Rs. 20000 for 1000 grafts.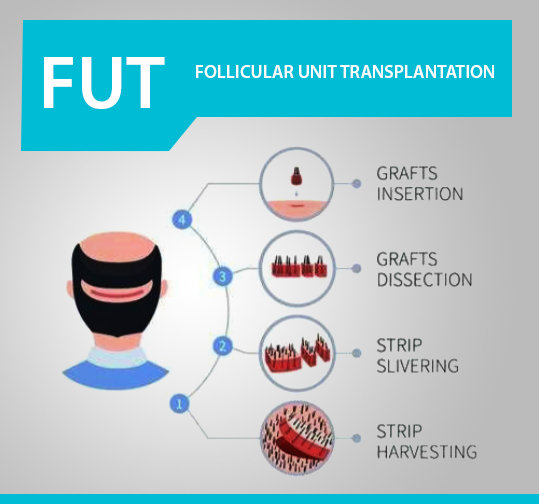 The most traditional method is Follicular Unit Transplantation which is also known as the strip method. Here a strip of hair from the back of the head is surgically taken for grafts. And then the grafts are taken from the strip. FUT transplant is not preferred is not nowadays as it leaves a visible scar on the back of your head. The per graft cost in FUT hair transplant is Rs. 25/-, costing around Rs. 25000 for 1000 grafts.
Direct hair transplant is a newly introduced hair transplant procedure in which the grafts are extracted and implanted simultaneously from the donor area to the recipient area. At Rejuvena Cosmo Care, we are experts in performing this technique of hair transplant which yields natural-looking results at a comparatively less time. The per graft cost in DHT hair transplant is Rs. 45/-, costing around Rs. 45000 for 1000 grafts.
Why Choose Rejuvena Cosmo Care for Hair Transplant In Jaipur?
Experienced Doctors: Dr. Deepesh Goyal is the founder of Rejuvena Cosmo Care and one of the best hair transplant surgeon in Jaipur. With over 13 years of experience, hundreds of hair transplant surgeries, and multiple other cosmetic surgeries, he is a well-known name in the field of hair transplant. He completed his Masters in Plastic & Reconstructive Surgery from one of the renowned medical institutes in India, IPGMER and SSKM Hospital, Kolkata. The Clinic consists of 6 other specialized cosmetic surgeons who are also specialized in hair transplants. We are trained in the use of the latest technology, so we always deliver excellent results. Hair transplant procedures are performed under Deepesh's supervision and hence it will be well done and a professionally well-done task.
Trained Technicians: The technicians at Rejuvena Cosmo Care are highly trained in the hair transplant process and develop a customized surgery plan. They are one of the essential aspects of every hair transplant surgery. The technicians handle the removal and placement of follicles and treatment procedures. The whole team works in perfect coordination so that you get your desired natural look that matches your natural hair pattern.
Latest Techniques: You will find only the latest and the best techniques, technology, and methods being used here. Both hair loss treatment and hair transplant surgery are performed using the latest machinery which delivers exceptionally good results. Hence, we are considered to provide the best hair transplant in Jaipur.
Guaranteed results: Hair growth after hair transplant mostly last a lifetime. Since the potent hair follicles are taken from the area of dense hair growth of the donor and placed on the bald area, the hair growth is continuous. A similar method is used everywhere from head to eyebrows to the mustache.
Successful hair transplant Case Study: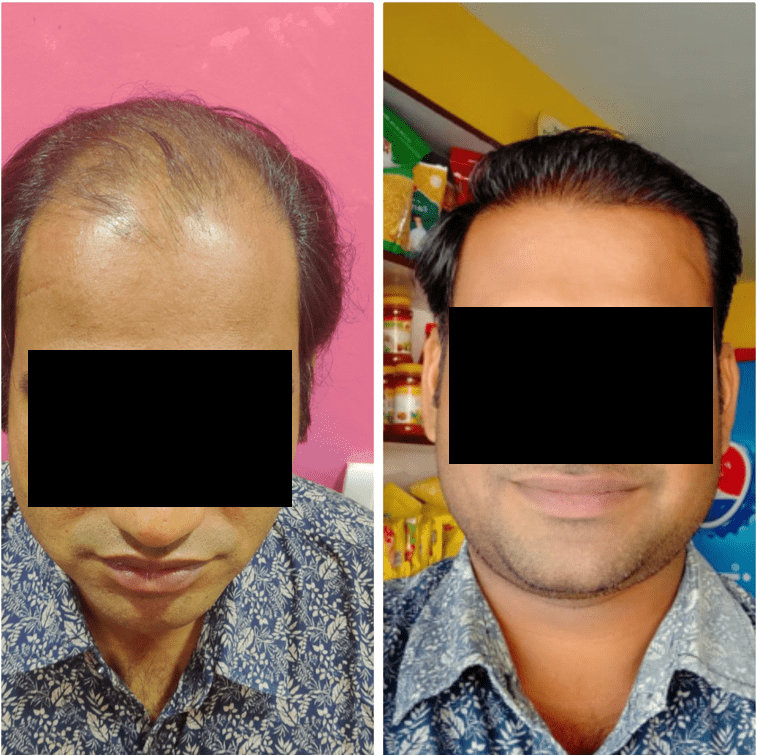 Mr. Sachin visited Rejuvena Cosmo Care complaining about excessive hair and visible baldness.
After a thorough examination of the scalp, Dr. Deepesh Goyal recommended performing FUT hair transplant procedure implanting 4000 grafts on the recipient area.
After the procedure, within 9 to 12 months, you can see the natural-looking result on the former bald area. To read more about the case, click here.
Frequently Asked Questions:
1.What should be discussed with a hair transplant surgeon in the first consultation?
It would be best to discuss your stage of baldness, medical history, and hair condition with your hair transplant surgeon.
After examining your scalp and considering the type of hair transplant you want, the transplant surgeon will suggest the hair transplant best suited to your needs.
You also need to ask in detail about the cost you will incur, the time required or the number of sessions, and the recovery period.
2. Will my transplantation results look natural?
Yes, your hair will look 100% natural after the transplant. Our surgeons will follow your natural hairline while placing the follicles, so they are indistinguishable from your natural hairs.
3. What is the cost of hair transplant Rejuvena Cosmo care?
There are many determining factors of hair transplant cost in Jaipur at Rejuvena Cosmo care, such as the surgeon's experience, type of hair transplant used, number of grafts, etc.
The cost per graft for hair transplant is ₹20/per graft.
The price again fluctuates between FUE and FUT, due to differences in methods, tools, and number of sessions required. The starting cost for 1500 grafts in FUT and FUE is Rs. 30,000.
4. How many grafts are required for hair transplant?
Of course, follicles or grafts required for hair transplant is one of the most important factors. The best way to determine how many grafts a patient might require is calculated by the level of baldness that you suffer with.
Following image shows 7 distinct levels of baldness that spans in several areas and a varying amount of hair loss:
Now once you or the doctor determines the level of baldness, we will calculate the number of grafts or follicles required to be transplanted. Depending on how wide/large the area baldness is the more grafts will be required.
You will find the estimated grafts required for different stages of baldness in the table below:
| | |
| --- | --- |
| Stages of baldness | Follicular Unit Grafts |
| 2a | 800-1400 |
| 3 | 1000-1600 |
| 3 Vertex | 1200-1600 |
| 3a | 1400-1800 |
| 4 | 1600-2200 |
| Iva | 1800-2400 |
| V | 2000-2500 |
| Va | 2200-2800 |
| VI | 2400-3000 |
| VII | 2500-3200 |
6. How long does the hair take to grow after the transplant?
In the first three weeks of the transplant, the transplanted graft will largely shed. After this, the transplanted follicle goes into a so-called "sleep mode" where it does not produce hair for a while. Within the first 3 to 4 months after the hair transplant, you will see about 10 to 20% of hair growth. In 6 months, around 50% of hair growth happens. In 8 to 9 months, approximately 80% of result can is seen. The 100% hair growth can is seen within 9 to 12 months after the hair transplant.
7. How many sessions are required for a hair transplant procedure?
Perfection and accuracy are what make hair transplants successful. Since anesthesia is being used, the health of the patient is also a significant factor. Taking all the factors into consideration, the transplant takes time.
One sitting takes around 7 to 8 hours, and about 2500 hair grafts at most can be transplanted in this sitting. Sometimes, we can transplant up to 3000 hair grafts again, depending on the factors mentioned above.
And if you require more than 3,000 grafts, the surgeon will take up to 2 to 3 sessions.