Rejuvena Cosmo Care is a premier plastic surgery clinic in Jaipur, exclusively established to provide advanced cosmetic and reconstructive surgeries under the highest standards, always keeping your best interests and safety in mind.
At Rejuvena, you can avail a whole range of surgical and non-surgical procedures, including liposuction, breast implants, hair transplant, skin rejuvenation treatments, gynecomastia, rhinoplasty, and many more.
All the treatments and procedures are tailored to your individual needs to help you maintain, improvise and enhance your look.
Our world-class clinic was founded by Dr. Deepesh Goyal, an award-winning plastic surgeon in Jaipur, best known for his excellence and expertise in cosmetic surgery, microvascular surgery, reconstructive surgery, and hair transplantation.
We have maintained a remarkable reputation for patient satisfaction, high standards, ethics, and safety since the beginning. Our goal is to provide our clients with the most diligent, truthful, and dedicated service possible.
Our state-of-the-art clinic is fitted with top-notch medical equipment and infrastructure to help our experienced cosmetic surgeon in Jaipur deliver the best possible medical care that exceeds your expectations.
Our Services
Gynecomastia
Gynaecomastia surgery in Jaipur is one of the most popular procedures among men at our clinic. In this procedure, the surgeon reduces breast tissue size in males with enlarged or overdeveloped breasts.
Hair transplant
A hair transplant is a boon for people suffering from receding hairline and baldness. This procedure transfers hair grafts from the donor area to the recipient area and offers a permanent solution to hair loss. Dr Deepesh Goyal is a leading surgeon for hair transplant in Jaipur, specializing in FUT, FUE, Direct hair transplant, and body hair transplant.
Beard transplant
Men love to have a nice full beard that they can style differently. Now it is possible to overcome patchy, scanty facial hair growth with a beard hair transplant in Jaipur. The surgeon will take hair grafts from the back of the scalp and implant them in the facial area where the hair is less or missing.
Hair loss treatment
Rejuvena Cosmo Care is a one-stop destination for all your hair problems. We offer customized non-surgical hair loss treatments to men and women, like PRP, mesotherapy, scalp rejuvenation treatment, etc., that give quick and outstanding results.
Liposuction
Dr Deepesh Goyal is one of the most sought-after cosmetic surgeon in Jaipur for liposuction. This procedure helps improve the body contour by removing stubborn fat from areas resistant to diet and exercise. It usually involves your buttocks, abdomen, arms, thighs, and chin.
Laser hair removal
Laser hair removal is one of the most opted treatments at Rejuvena Cosmo Care, a trusted plastic surgery clinic in Jaipur. This advanced hair reduction treatment provides a long-term solution for unwanted facial and body hair. Our clinic has lasers that are safe and effective for Indian skin tones.
Rhinoplasty
Rhinoplasty, or nose job surgery, is a procedure that alters the shape of the nose for medical or cosmetic reasons. This procedure is carried out to either change your nose's proportion, size or shape or treat congenital disabilities, deformities, or respiratory issues. Dr Deepesh Goyal, a top cosmetic surgeon in Jaipur, is an expert in rhinoplasty.
What is the cost of plastic surgery in Jaipur?
Rejuvena Cosmo Care is known for its economical and budget-friendly plastic surgery cost in Jaipur. We believe that everyone should have access to first-class medical care at an affordable price.
The prices at our clinic may vary from one patient to another depending on the severity, procedure type, and overall health. For example, the hair transplant cost in Jaipur at our clinic depends on the number of grafts you need and the type of procedure you choose.
Check out the average plastic surgery cost in Jaipur at Rejuvena Cosmo Care:
| | |
| --- | --- |
| Cosmetic Surgery | Cost |
| Gynecomastia | Rs. 40000 – Rs. 75000 |
| Breast augmentation | Rs. 100000 – Rs. 150000 |
| Liposuction | Rs. 50000 – Rs. 150000 |
| Rhinoplasty | Rs. 40000 – Rs. 140000 |
| Laser hair removal | Rs. 1500 – Rs. 3000 per session |
| FUT hair transplant | Rs. 25-Rs.35 per graft |
| FUE hair transplant | Rs. 25 -Rs.35 per graft |
Note: Please note the above prices are subject to change without any prior notification.
Dr. Deepesh Goyal – An Ace Plastic Surgeon in Jaipur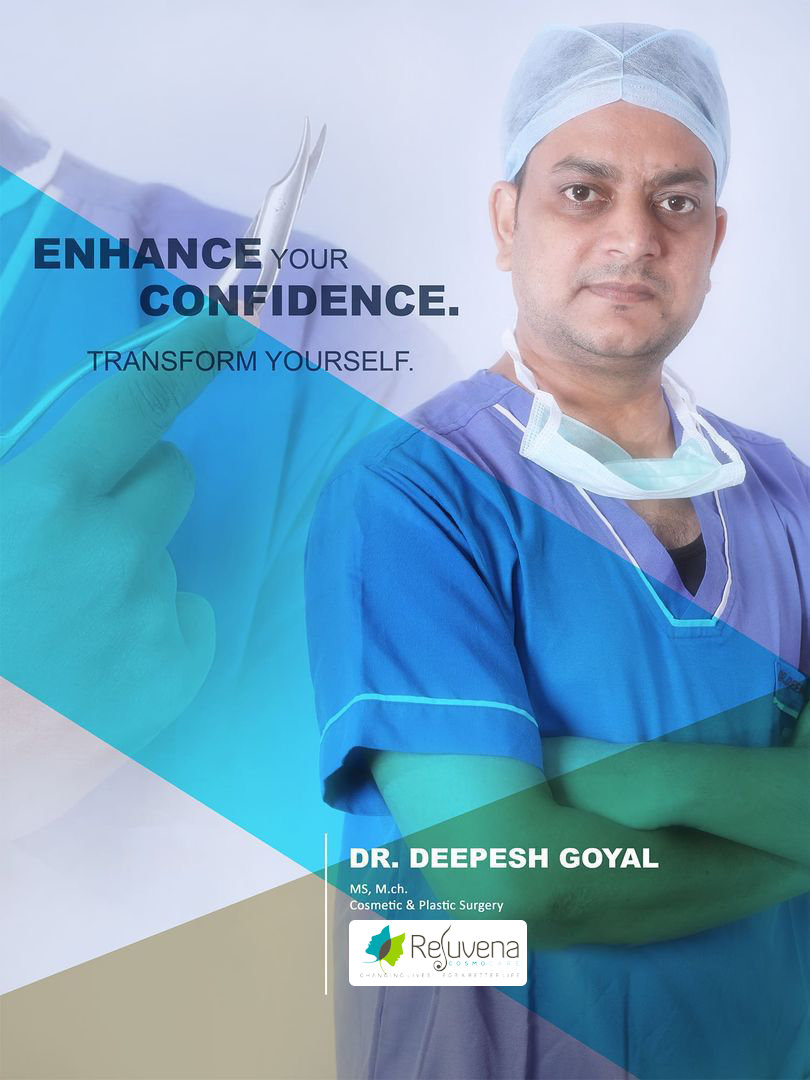 Dr Deepesh Goyal is a leading plastic surgeon in Jaipur with extensive experience in both reconstructive and cosmetic surgery.
He has assisted thousands of patients in regaining their confidence and beauty through life-changing transformations using his unparalleled talent, meticulous surgical skills, aesthetic taste, and eye for detail.
For his unwavering dedication and mastery in his field, he was awarded the Best Plastic and Cosmetic Surgeon of Rajasthan 2019.
Dr. Deepesh Goyal has a keen interest and expertise in gynaecomastia, breast augmentation, breast reconstruction, liposuction, rhinoplasty, facelift, and hair transplant in Jaipur. He also excels in cleft, trauma, microvascular, hands, and burn surgeries.
He strives to provide his patients with safe, efficient, and high-quality care. To meet the needs of his patients and improve their quality of life, he uses the most advanced procedures and cutting-edge technology.
He adheres to the highest standards of ethics, professionalism, and communication to help his patients make the best decisions that will ultimately result in superior outcomes.
Dr. Deepesh Goyal completed his MBBS from Jawaharlal Nehru Medical College, Ajmer, in 2006. He later gained his MS - General Surgery from Sardar Patel Medical College, Bikaner, in 2011.
After that, he pursued MCh - Plastic Surgery from the Institute of Post Graduate Medical Education & Research, SSKM Hospital, Kolkata, in 2014.
He further honed his skills by getting extensive training in facial cleft repair, IPL Quantum Laser, scar prevention, and hair transplantation.
Due to his extensive training, work experience, and commitment to excellence, Dr Deepesh Goyal is regarded as one of the best plastic surgeon in Jaipur.
You can visit him for consultation at Rejuvena Cosmo Care, a renowned plastic surgery clinic in Jaipur. The clinic is open on all days except Sunday from morning 10 am to evening 8 pm.
Jaipur, Rajasthan's first dedicated complete Cosmetic Clinic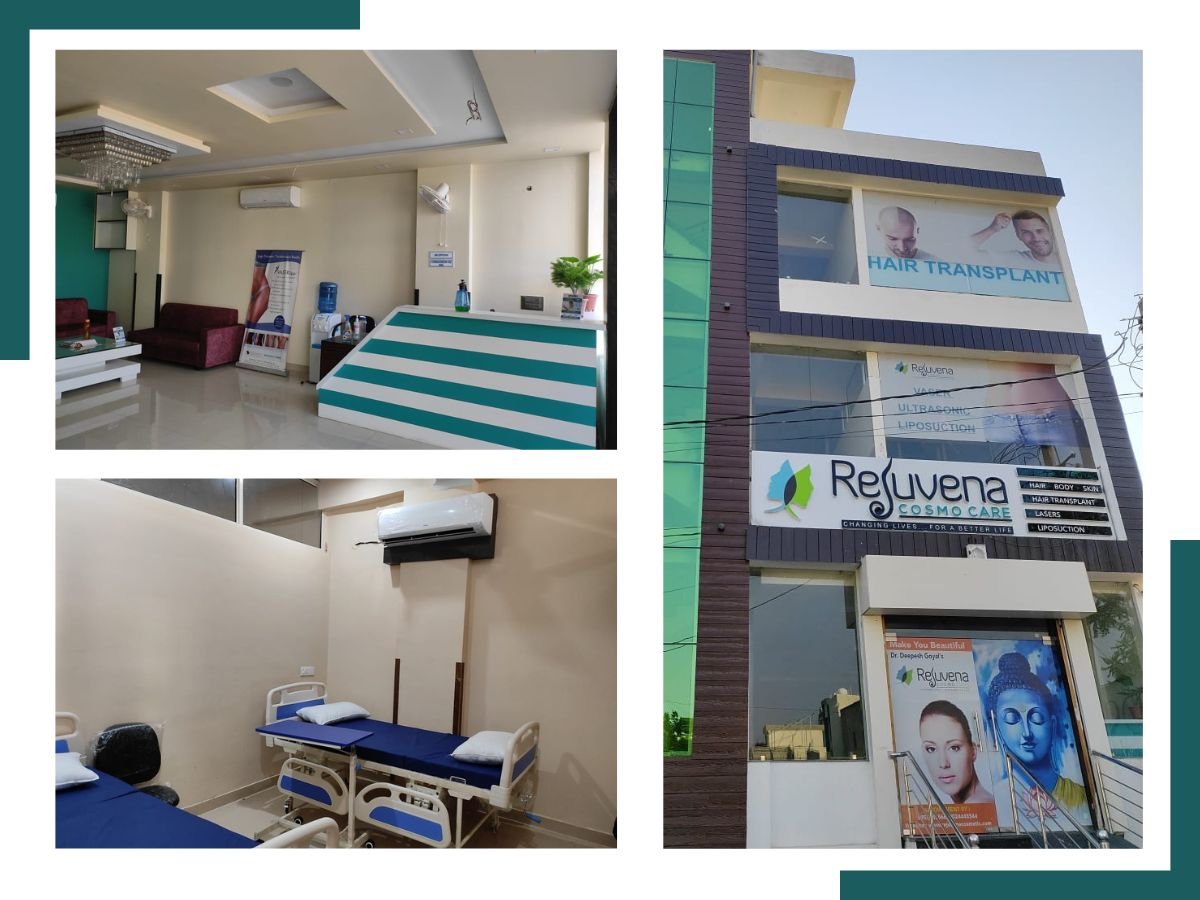 Experience a comprehensive spectrum of aesthetic possibilities at Rejuvena Cosmo Care, Jaipur's premier destination dedicated complete Cosmetic Clinic.
Your journey to rejuvenation ends here!
Rejuvena Cosmo Care offers all types of non-invasive and surgical cosmetic services as the region's premier dedicated cosmetic clinic. With a team of highly trained Cosmetic and Plastic surgeons, state-of-the-art equipment including the world's most advanced VASER ultrasonic Liposuction machine and cutting-edge technologies like the Suprano ice cool diode laser and advanced Co2 laser for acne, we ensure that all your cosmetic needs are met under one roof. From non-invasive treatments to surgical procedures, Rejuvena Cosmo Care in Rajasthan is your one-stop solution for transformative cosmetic care.
Why Choose Rejuvena Cosmo Care?
At our plastic surgery clinic in Jaipur, you are assured of excellence in medical care with state-of-the-art resources and the latest treatments.
You will be treated by the highly acclaimed plastic surgeon in Jaipur, Dr Deepesh Goyal, who is known for his innovative techniques, meticulous approach, and natural results.
All our treatments and procedures are cost-effective. But be assured reasonable pricing does not mean substandard treatment.
We are one of the most-preferred clinics for hair restoration due to our outstanding aesthetic results and economical hair transplant price in Jaipur.
We at Rejuvena Cosmo Care lay great emphasis on patient care, satisfaction, and privacy. We assist and support you all through your treatment and aftercare.
Media