Rejuvena Cosmo Care is one of the most trusted and best clinic for plastic surgery in Jaipur. We offer a wide range of aesthetics and cosmetic surgeries and treatments for both men and women that help you look your best.
Our world-class facilities are complemented by exceptional treatment from Dr. Deepesh Goyal, our Founder and a highly esteemed plastic surgeon in Jaipur.
We specialize in tummy-tuck, gynecomastia, liposuction, breast augmentation, rhinoplasty, and hair transplant in Jaipur, to name a few. Till date, we have successfully carried out hundreds of surgical and non-surgical procedures for a large volume of clients.
At Rejuvena Cosmo Care, we believe in providing individualized service tailored to every patient's needs. Our aim is to achieve the optimal outcome without compromising patient safety.
At our clinic for plastic surgery in Jaipur, we apply the latest techniques in all aspects of plastic, reconstruction, and aesthetic surgery. We strive hard to maintain the international standards of quality care and try to exceed our patient's expectations.
With our extensive experience, cutting-edge facilities, and customized treatments, you can rest assured that you are in safe hands with Rejuvena Cosmo Care. From your initial consultation to your treatment and after-care, we are here to make your journey as smooth as possible.
What is the cost of plastic surgery in Jaipur?
The plastic surgery cost in Jaipur at our clinic is affordable. Rejuvena Cosmo Care is the most sought-after clinic in the city for its advanced cosmetic procedures at an economical price.
Our clinic's price might vary depending on different factors such as the type of treatment, additional procedures, special features, the severity of your problem, overall health, etc.
The average cost of some of the procedures are given below:
| | |
| --- | --- |
| Cosmetic Surgery | Cost |
| Gynecomastia | Rs. 40000 – Rs. 75000 |
| Breast augmentation | Rs. 100000 – Rs. 150000 |
| Liposuction | Rs. 50000 – Rs. 150000 |
| Rhinoplasty | Rs. 40000 – Rs. 140000 |
| Laser hair removal | Rs. 1500 – Rs. 3000 per session |
| FUT hair transplant | Rs. 25 per graft |
| FUE hair transplant | Rs. 25 per graft |
Note: The above price is an estimation and is subject to change without any prior notification.
Dr. Deepesh Goyal – A Plastic Surgeon Par Excellence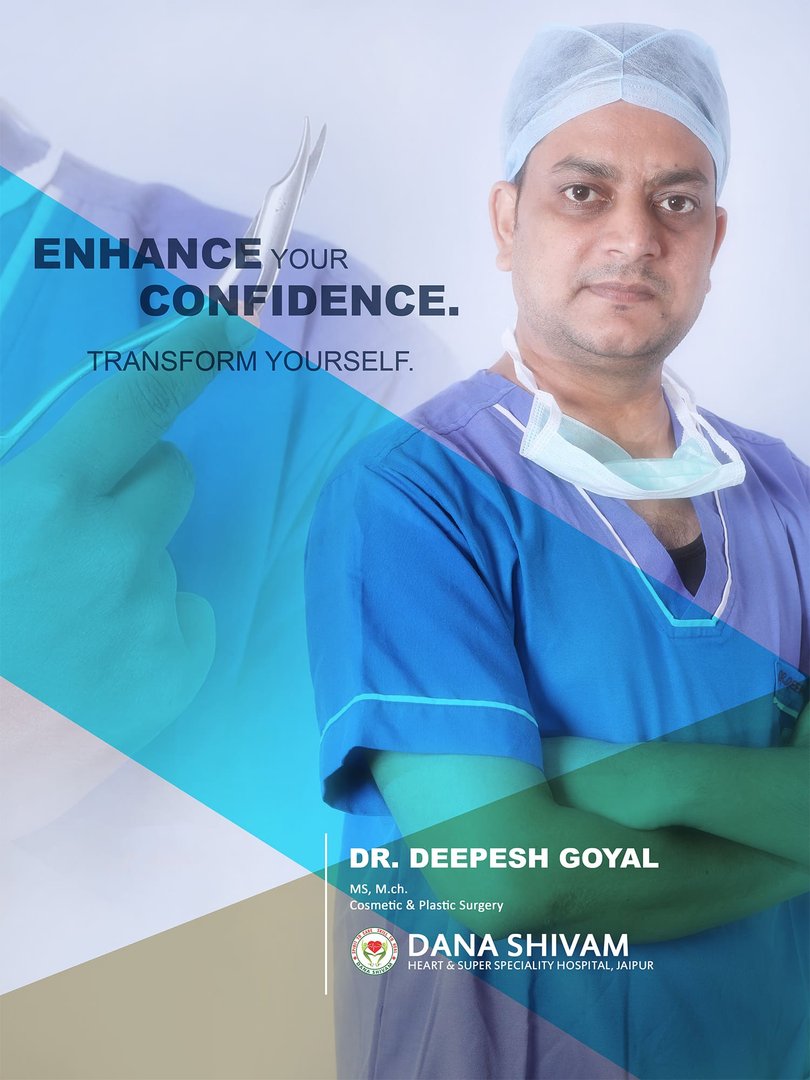 Dr. Deepesh Goyal is one of the best plastic surgeon in Jaipur with expertise in all aspects of plastic surgery and special interests in aesthetics, hair transplant, cleft surgeries, trauma, and cancer reconstruction. He has vast experience in some of the latest techniques and innovations.
His passion and dedication to his field have enabled him to become a highly-skilled plastic surgery doctor in Jaipur. For which, he was awarded the 'Best Plastic and Cosmetic Surgeon of Rajasthan, 2019.'
Dr. Deepesh Goyal completed his postgraduate training at S.P.M.C. Bikaner, Rajasthan University 2010 and later did his super specialization in Plastic surgery from IPGMER, S.S.K.M. Hospital, Kolkata in 2014.
He also received extensive training in Facial Cleft Surgery, IPL Quantum Laser, and FUE and FUT hair transplant.
His patients love him for his warm and compassionate mannerism that makes them feel comfortable and secure. He always listens to your requirements and expectations and makes it a point to discuss the options with you.
You can book an appointment at his clinic, Rejuvena Cosmo Care which is open from 10 am to 8 pm on all weekdays except Sunday.
Apart from the hair transplant treatment, the experienced cosmetic surgeon in Jaipur also offers quality treatment for a wide range of problems related to other body parts such as the face, skin, nose, breast, and lips. This includes cosmetic surgeries like liposuction, breast reconstruction, and augmentation, facial rejuvenation, along with scar removal and Rhinoplasty. Moreover, as the best plastic surgeon in Jaipur, the treatment is also offered for microvascular, burns, and trauma injuries.