Rejuvena Cosmo Care offers one of the best hair transplant cost in Jaipur. We are a leading, ultra-modern clinic that provides a range of hair restoration techniques.
Nowadays, many people opt for hair transplant in Jaipur as they know it is a permanent solution for thinning hair and baldness. But the cost is a major concern for most of them. We calculate the cost on a per graft basis, and it begins from Rs. 25 to Rs. 35 per graft. Each graft contains around 2-4 hair.
Let us assure you that the cost of hair transplant in Jaipur is quite affordable. We at Rejuvena Cosmo Care are known to offer the best hair transplant cost in Jaipur that suits all budgets. You can verify this from thousands of our satisfied customers.
Typically, a hair transplant cost depends on your level of baldness, the number of grafts implanted, and the technique used. At our clinic, we offer different hair transplant techniques to suit your requirement and budget. The pricing for each method is different.
Compare the cost of each technique of hair transplant:
| | | | |
| --- | --- | --- | --- |
| Number of grafts | FUE | FUT | DHT |
| 1000 - 2000 | Rs. 20000 – Rs. 40000 | Rs. 25000 – Rs. 50000 | Rs. 45000 – Rs. 90000 |
| 2000 - 3000 | Rs. 40000 – Rs. 60000 | Rs. 50000 – Rs. 75000 | Rs. 90000 – Rs. 135000 |
| 3000 - 4000 | Rs. 60000 – Rs. 80000 | Rs. 75000 – Rs. 100000 | Rs. 135000 – Rs. 180000 |
| 4000 - 5000 | Rs. 80000 – Rs. 100000 | Rs. 100000 – Rs. 125000 | Rs. 180000 – Rs. 225000 |
| 5000 - 6000 | Package | Package | Package |
| 6000 - 7000 | Package | Package | Package |
Note: The above charges are just an estimation and are subject to change without prior notice.
Types of Hair Transplant Procedure at Rejuvena Cosmo Care
1.Follicular Unit Extraction (FUE)
We at Rejuvena Cosmo Care are experts in FUE hair transplant. It is one of the most popular and advanced procedures for restoring hair. In this method, Dr. Deepesh Goyal will manually remove individual hair follicles from your donor area, which is your scalp's back and side. Then he will implant them in the slits made in the recipient area, that is, the bald area.
FUE is a highly preferred hair transplant technique as there are minimum side-effects and no visible scarring.
Another reason for its popularity is its cost. We charge from Rs. 20 to Rs. 30 per graft. So, your approximate hair transplant cost in Jaipur for FUE will be Rs. 20,000 for 1000 grafts.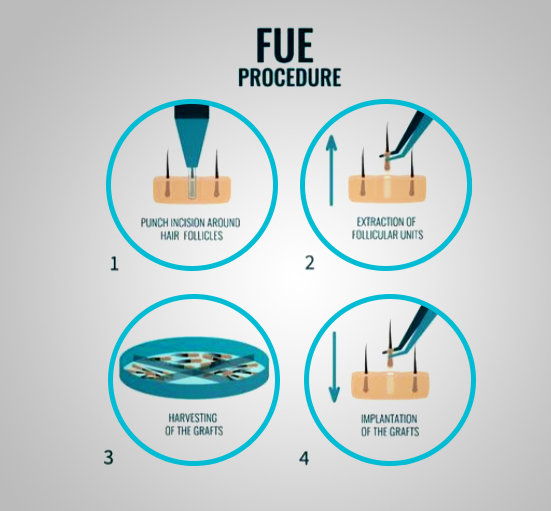 2. Follicular Unit Transplant (FUT)
Also known as the strip method, FUT hair transplant is the oldest hair transplant technique. During this method, Dr. Deepesh Goyal removes a strip of skin from the back of the scalp. It is then dissected into grafts under high magnification microscopes. These are then implanted in the balding area. FUT is mostly used for covering a larger area. This is a semi-invasive procedure where the doctor uses sutures to close the wound, and it also leaves behind a linear scar.
The hair transplant price in Jaipur for FUT is Rs. 25-35 per graft. For 1000 grafts at our clinic, you will have to pay around Rs. 25,000 -35,000.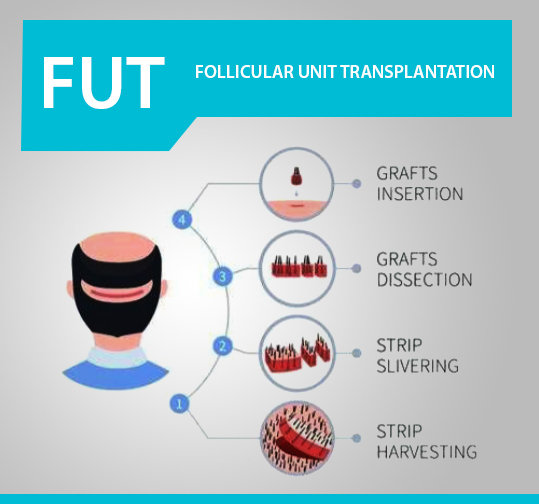 3. Direct hair transplant (DHT)
DHT is an advanced method of FUE hair transplant. In this method, individual hair follicles are removed from the donor area with the aid of a special tool. These follicles are then directly implanted in the recipient area with the help of an implanter. With DHT, you have ensured the right direction, depth, and angle. Many people are opting for DHT as it is a painless process and gives excellent natural results.
The hair transplant price in Jaipur for DHT is approximately from Rs. 45 to Rs. 55 per grafts. For 1000 grafts, it will cost you around Rs. 45,000 at our clinic.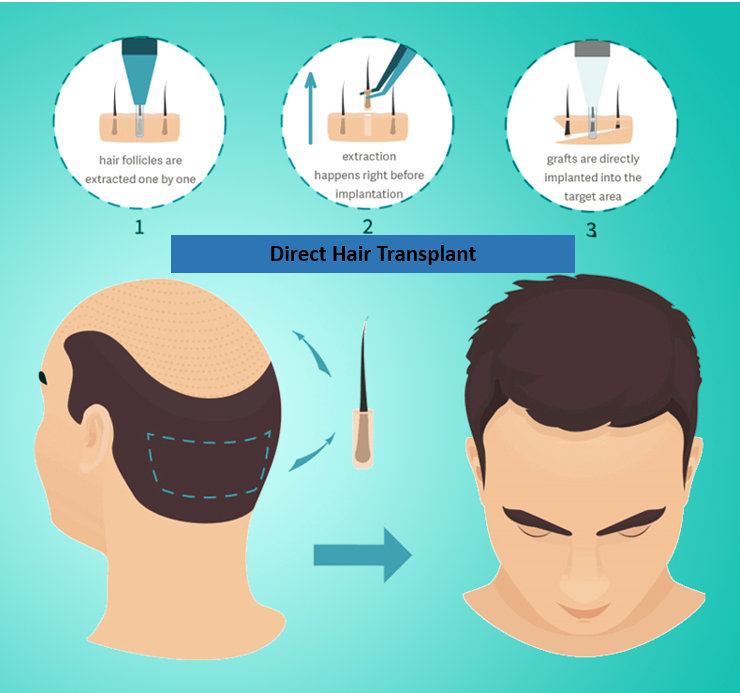 Why choose Rejuvena Cosmo Care for hair transplant in Jaipur?
First and foremost, Dr. Deepesh Goyal is a highly proficient hair transplant surgeon who performs hair transplant surgery himself.
Our clinic, Rejuvena Cosmo Care, provides premium quality hair transplant in Jaipur at an affordable cost.
All our technicians and staff are highly trained and experienced and always ready to assist you.
Our clinic is fitted with the latest technology and equipment.
We follow stringent protocols when it comes to safety and hygiene.
The success rate of hair transplants at our clinic is very high.
Now that you know the hair transplant cost in Jaipur, let us understand its factors.
At Rejuvena Cosmo Care, we calculate the cost of hair restoration on the following factors:
Level of baldness – The cost of a hair transplant is directly related to your baldness level. If your level is higher, you will need more grafts for coverage, thereby increasing the cost.
Total number of grafts – As you know, the hair transplant cost in Jaipur is calculated on the basis of grafts. If you desire higher density, you will need more grafts, and it will increase your cost.
Hair transplant technique – The charges for each hair transplant technique is different. Depending on which one you choose for your treatment, the price will differ. At times, the doctor may suggest using a combination of techniques for better coverage. So, you will be charged accordingly at our clinic.
Donor area – Mostly, the grafts are used from the back of your scalp for transplant, but sometimes they are not enough. Dr. Deepesh Goyal will extract the hair grafts from other donor areas such as the beard or chest. This will increase the hair transplant price as removing hair from these areas need greater precision and skill.
Additional therapies - For better results, the doctor may recommend added treatments such as PRP or mesotherapy along with hair transplant. These will be charged separately, thereby increasing the total cost.
Successful hair transplant Case Study: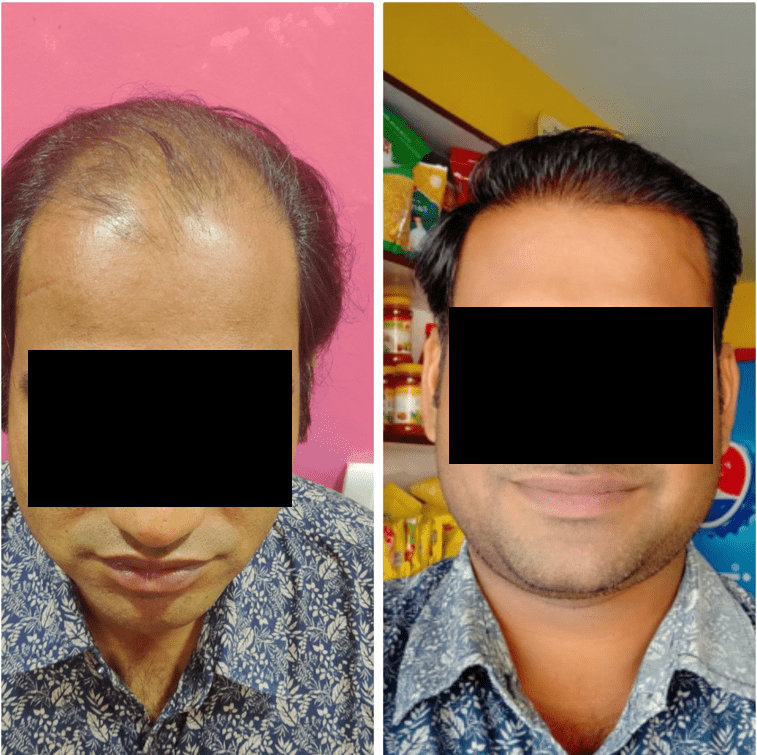 Mr. Sachin visited Rejuvena Cosmo Care to find a solution to excessive hair and visible baldness.
After a thorough analysis of the scalp, Dr. Deepesh Goyal suggested performing a FUT hair transplant procedure in which 4000 grafts were required to be implanted on the bald area. For 4000 grafts, it costed him between Rs. 1,00,000 to Rs. 1,15,000.
Within 9 to 12 months after the procedure, Sachin witnessed the natural-looking result on the former bald area. To read more about the case, please click here.