Hair is an important feature to determine one's appearance and look. Therefore, everyone wants shining and smooth hair. Many young, as well as old individuals, experience baldness. It is an effect of an unhealthy eating regime, excessive stress, exposure to pollution, etc.
Dust, pollution, junk food, etc., damages hair causing hair fall and baldness. Hence, people opt for Direct hair transplant in Jaipur to get natural and younger-looking hair.
There are several best hair transplant clinics in Jaipur which offer the best and effective hair transplant surgery in Jaipur. Dr. Deepesh Goyal's Rejuvena Cosmo Care has the best and innovative technology for surgical and non-surgical cosmetic procedures.
What is Direct Hair Transplant?
DHT is the most innovative, advanced, and effective hair restoration technique. DHT is an intricate technique that includes the proper distribution of hair from areas of abundance to parts of the head where the hair loss is more and visible without pain and no stitches.
How is the Direct Hair Transplantation (DHT) Performed?
DHT is an advanced version of the FUE hair transplant technique and follows a similar method. Our surgeon will extract hair follicles from one part of your head, usually the back of your scalp, and transplant them into balding sites. These hair follicles will ultimately grow into new healthy hairs.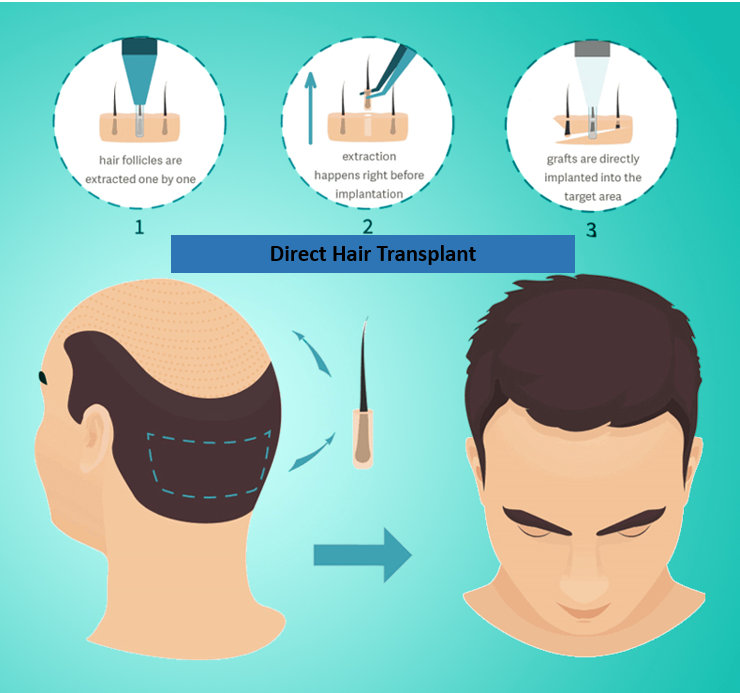 Here's what you can typically expect during the procedure:
Our surgeon will usually shave your scalp and administer local anaesthesia to numb it.
The surgeon will further extract hair follicles from the back of your scalp using a fine tip tool.
Our surgeon will load the hair follicles into a pen-shaped tool and implant them into the balding region of your scalp.
The surgeon will use an antibiotic cream and apply a dressing to all sites.
DHT technique usually takes around 8 hours to finish the process. But the accurate time can vary depending on the number of hair follicles transplanted. It can take 12 to 18 months to get the full results of the transplant.
What is the DHT Hair Transplant Cost in Jaipur?
The hair transplant cost in Jaipur of DHT technique is Rs. 40 per graft. However, the cost depends on various factors. Some of the parameters affecting the hair transplant price are:
Size of the recipient zone.
The technique of hair transplant performed.
The number of sessions required.
Experience of the hair transplant surgeon performing the procedure.
Quality of hair and desired density.
People from Jaipur and other remote areas come to Jaipur for hair transplant treatment as they get high-quality treatment at an affordable price from the best hair transplant surgeon.
The success rate of hair transplant is high, and hence you won't get disappointed once you get treatment from here as the hair transplant price in Jaipur is relatively reasonable.
Why Choose Us?
Rejuvena Cosmo Care in Jaipur is an ultramodern clinic, incorporating the latest equipment and dedicated entirely to patient quality care.
Under the guidance of Dr. Deepesh Goyal, the clinic strives for a perfect balance of restoring health and well-being in a safe and caring environment while at the same time delivering personal attention and respect for your privacy.
The Rejuvena Cosmo Care is a well-known hair transplant clinic in Jaipur. Dr. Deepesh Goyal, the Founder of Rejuvena, is one of the top cosmetic surgeon in Jaipur for performing hair transplants.
We have successfully performed 500+ hair transplant surgeries since the inception of Rejuvena in 2015.
Before opting for a hair transplant in Jaipur.
Benefits of Direct Hair Transplant
It gives 100% natural results as we transplant your hair.
It is a painless procedure; even the blood loss is significantly less.
Since it is performed manually, the depth, angle, and hair arrangement can provide much denser hair growth.
In a direct hair transplant, the instruments, needles, etc., are for single use only and disposable, ensuring a high amount of safety.
Book your consultation with Dr. Deepesh Goyal and get to know all the details about your hair transplant treatment, including the cost.