For over seven years, Dr. Deepesh Goyal has been providing the best hair transplant in Jaipur. His vast knowledge and years of experience have made him one of the most preferred hair transplant surgeons in the country.
Dr. Deepesh Goyal is the founder and Chief Cosmetic Consultant of Rejuvena Cosmo Care, a premium clinic known for its high- quality personalized services and affordable FUE hair transplant cost in Jaipur.
One of the most common problems in recent times is severe hair loss. It affects both men and women. However, in men, this issue is more pronounced as it leads to receding hairline and baldness.
No doubt there are many hair restoration treatments available, but the most effective and long-lasting solution is a hair transplant.
With his dedication and hard work, Dr. Goyal, an expert hair transplant surgeon, has transformed the lives of hundreds of patients.
His FUE hair transplant clinic in Jaipur has the most advanced infrastructure and a team of highly- qualified and experienced staff.
What is a hair transplant?
Hair transplant is a procedure wherein the healthy hair grafts from the donor area are transferred to the bald area. Basically, there are two methods in which this procedure is done, FUT and FUE hair transplant.
Both of these techniques are widely used and give reliable results. However, compared to FUT, FUE is the most preferred choice as it offers natural results and does not leave behind visible scars.
It is highly recommended to undergo a hair transplant under an experienced surgeon as this is an aesthetic procedure. The direction, angle, and formation of the new hairline impact your final result. And there are a few hair transplant surgeons as proficient as Dr. Deepesh Goyal.
Let's briefly understand the FUE hair transplant procedure
Initially, during the consultation, Dr. Deepesh Goyal will examine your scalp and the donor area to understand the number of grafts you will need.
He will further discuss with you your expectation from the surgery so that he can accordingly plan it keeping your requirements in mind.
Step by step FUE procedure: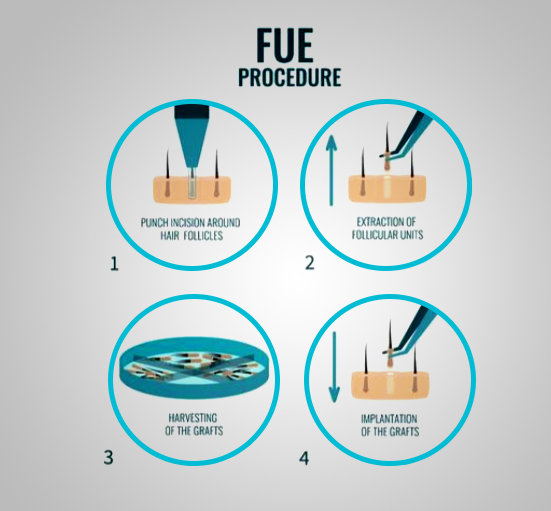 Step 1: First, the doctor's team will prepare you for the surgery. They will shave and wash your scalp. Then they will inject local anesthesia into your scalp to numb it so that you feel no pain.
Step 2: After this, the doctor will remove individual follicular units from the donor area with the help of a punch. These grafts will be collected and kept in a medicated solution to keep them healthy and nourished.
The technicians will examine each graft under a powerful microscope so that only the best ones are implanted in the scalp to give good results.
It takes around 2 to 3 hours to extract the grafts.
Step 3: Dr. Goyal will create the new hairline and make tiny slits in the recipient area in such a way that it matches your natural hair growth pattern.
Step 4: Then the grafts will be carefully inserted one by one in the recipient area.
The follicles with single hair will be placed in the hairline area to give a natural look whereas follicles with more hair will be implanted in the middle to give a denser look.
To complete this process, it will take around 2 to 3 hours.
How many sessions will you need for an FUE hair transplant?
FUE hair transplant is a time-consuming process, and in a single session, the doctor will transplant approximately 2500 to 3000 hair grafts which will take around 7 to 8 hours.
If you require more than 3000 grafts, then the complete procedure may extend up to 2 to 3 sessions.
What is the recovery period after a FUE hair transplant?
FUE hair transplant is a minimally-invasive procedure where there are no cuts or sutures involved.
It will take a few days for the scalp to heal. You will have to go for your follow up at the clinic, and within a week you can go back to work.
Precautions you need to follow after FUE hair transplant
Strictly follow your doctor's advice and take medications on time
Use the headcover provided by the clinic to cover your head and wear a loose hat when venturing out during the recovery period
For a month or so avoid direct sunlight
Do not lift heavy articles and avoid playing contact sports.

What is the FUE hair transplant cost in Jaipur?
The charges at the FUE hair transplant clinic in Jaipur depends on several factors such as the number of hair grafts required, level of baldness, the texture of your hair, and added services.
The cost of an FUE hair transplant at Rejuvena Cosmo Care is Rs. 25 per graft. In the table below, we have provided the approximate cost according to the number of grafts required.
| | |
| --- | --- |
| Follicular Unit Grafts | Approximate cost (INR) |
| 1000 – 1500 | 25000 – 37500 |
| 1500 – 2000 | 37500 – 50000 |
| 2000 – 2500 | 50000 – 62,500 |
| 2500 – 3000 | 62500 –75,000 |
| 3000 – 3500 | 75000 – 87,500 |
| 3500 – 4000 | 87500 – 100,000 |
Note: The above cost is subjected to change depending on various factors. To know the exact cost, please consult with our doctor.
Why choose Rejuvena Cosmo Care for FUE hair transplant in Jaipur?
Dr. Deepesh Goyal is one of the top hair transplant surgeons in Jaipur
He personally does the FUE hair transplant with the help of his dedicated team
We have a high success rate
Our clinic is fitted with the latest equipment and technology
We follow stringent protocols to maintain hygiene and safety