Hair loss is a concern for most men. Due to stress, hormonal imbalance, hereditary, nutrient deficiency, and pollution, both men and women experience hair loss.
Excessive hair loss over a period of time leads to visible baldness. If you are facing the same problem, then a FUT hair transplant in Jaipur can be a suitable solution for you.
Dr. Deepesh Goyal is a renowned Plastic surgeon in Jaipur who has successfully performed thousands of hair transplants in Jaipur.
With the help of the FUT hair transplant procedure, many of his patients have regained their natural hair density, thereby enhancing their personality.
Dr. Deepesh Goyal is the Founder of Rejuvena Cosmo Care, a leading hair transplant clinic in Jaipur. Our state-of-the-art clinic is fully equipped with the cutting-edge technology and equipment required to give you the best results for the FUT procedure. We provide result-oriented transplants at the most affordable hair transplant cost in Jaipur.
Here we have briefly explained the procedure, benefits, and recovery period of FUT Hair Treatment in Jaipur.
What is FUT Hair Transplant?
Follicular Unit Transplant (FUT) is also called the strip method. In this hair transplant technique, the surgeon takes the strip of hair-bearing skin from the back of your head, separates it into individual hair grafts, and implants it into your bald scalp. This method covers a large area of baldness in a single session.
Process of FUT Hair Transplant in Jaipur
When you visit Dr. Deepesh Goyal, one of the best hair transplant surgeon in Jaipur, he will first analyze your scalp. He will check how much density you require and whether you have a healthy donor area to extract hair follicles. Accordingly, he will explain to you the procedure.
Here is a step-by-step procedure of FUT Hair Transplant in Jaipur: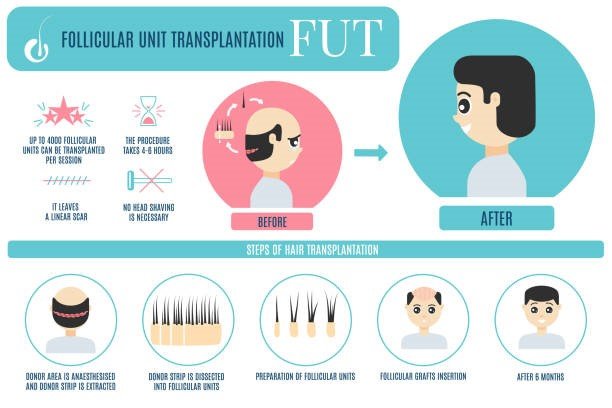 Step 1 – Marking of Hairline
Dr. Deepesh Goyal will mark your bald area where you require hair growth.
Step 2 – Giving local Anesthesia
The surgeon will give local anesthetic injections to numb your head. You will not feel any pain once it becomes numb.
Step 3 – Removal of Hair-Strip
Dr. Deepesh Goyal will remove the hair-bearing strips of skin from the back or sides of the scalp (donor area).
Step 4 – Separation of Hair Grafts
Under binocular microscopes, your hair-strip will be separated into individual hair grafts. A single hair graft contains 2 to 4 hair strands.
Step 5 – Implantation of Grafts
Then Dr. Deepesh Goyal will punch tiny holes on your bald area and carefully implant each hair graft.
This procedure helps you to achieve your desired hair density.
Benefits of FUT:
The time taken to perform the surgery is comparatively shorter.
This method is beneficial if you require a larger number of grafts in a single session.
The cost of FUT is less as compared to other hair transplant techniques.
The success rate of FUT is up to 95% to 98%.
Recovery time for FUT:
Soon after the surgery, the doctor will tie a bandage to your head. You can remove the dressing before going to sleep. There can be numbness due to anesthesia.
There will be stitches in your donor area. You will have to visit the surgeon after 10 to 12 days to remove the stitches.
After 2 to 3 weeks, your transplanted hair will fall off. It is a sign that your new hair growth will start.
Within 9 to 12 months, you can see the full hair growth.
Post-Surgery Care:
You should strictly follow the prescription given by the doctor.
You must not touch your implanted grafts for a week.
You should avoid lifting heavy weights and doing rigorous exercise and sports.
You must not expose your scalp to the sun for the first three months.
You must wear a loose hat during the recovery period.
Side effects of FUT:
One of the concerning side effects of FUT is scarring on your donor area. Since a hair-bearing skin strip is removed, a linear scar will remain after the treatment.
Swelling of the scalp may persist for a few days, but it can be easily resolved through medication.
Pain and itching may happen since it's a surgical procedure. The doctor will give medicines to take care of it.
Rarely, there might be an infection.
The suitable candidate for FUT hair transplant:
You must have a healthy donor area.
Your age must be above 25 years.
You need to implant a larger number of grafts in one session.
You must not have Alopecia Areata.