Beards are in fashion everywhere around the world. Men love having one as it makes them look rugged and masculine. However, not everyone is blessed with good beard growth, making their beard look patchy and uneven.
But you know what. With the advancement of medical science and innovative techniques, it is possible to get a full, dense beard.
Yes, you read it right. A beard hair transplant is the best solution for people struggling with scanty, uneven beard growth.
Rejuvena Cosmo Care is a leading plastic surgery clinic offering high-quality beard transplant in Jaipur. Here, you are assured of customized treatment using the latest technology at an affordable price.
Dr. Deepesh Goyal, the clinic's founder, is a top surgeon for hair transplant in Jaipur. He excels in various hair restoration methods, such as FUE, FUT, Direct hair transplant, eyebrow hair transplant, eyelash hair transplant, and beard hair transplant.
This article discusses beard transplant, its procedure, advantages, and cost.
Beard transplant overview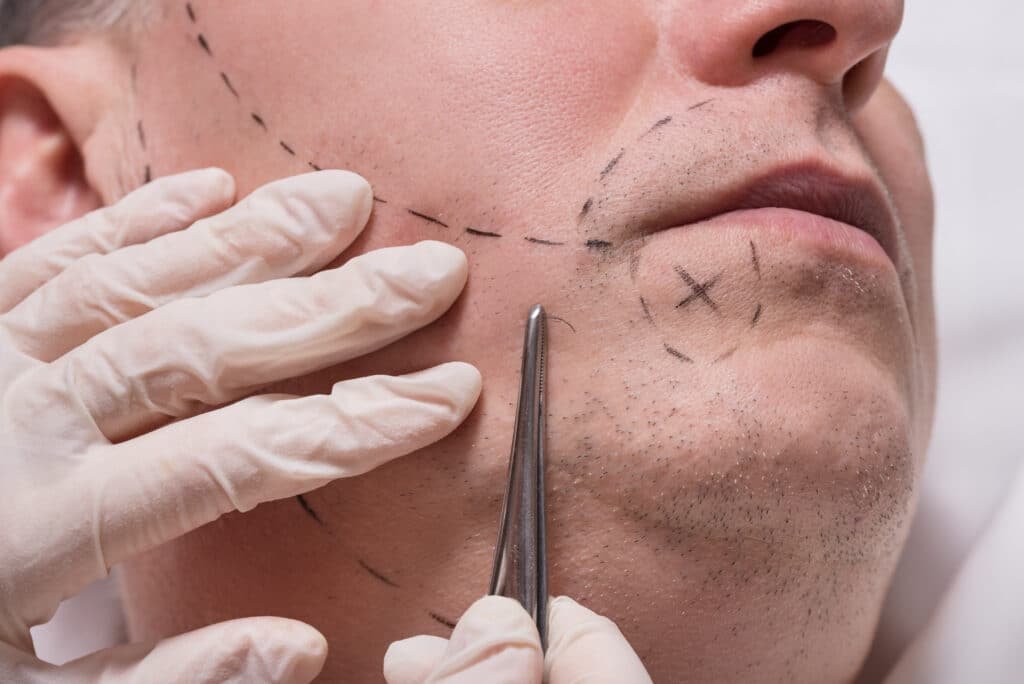 A beard transplant is similar to a hair transplant, where hair from your scalp is transplanted to the balding area.
In the same way, if you find it hard to grow a beard, the doctor will implant hair follicles from the donor region to the areas with thin or no hair growth to increase the volume and improve facial hair growth.
If done by a qualified and skilled hair specialist, you can have a full, dense beard that can last you a lifetime.
What are the causes of a patchy beard?
Several causes can affect the growth of your beard, such as:
Genetic reasons
Autoimmune disorder
Infection
Thyroid disease
Chemotherapy
Apart from these causes, scars, and lesions due to burns, trauma, or surgical procedure can hamper facial hair growth.
Dr. Deepesh Goyal, an experienced surgeon for hair transplant in Jaipur, will carefully examine your skin and hair to verify if you are a good candidate for a beard transplant.
He will further check your donor area, the back of your scalp, to determine if it has adequate follicular units for transplantation.
What are the different types of procedures for beard transplant?
At Rejuvena Cosmo Care, we provide beard transplant in Jaipur using the following methods:
Follicular unit extraction (FUE) involves harvesting follicular units one by one from the donor area and implanting them in your jawline and places where you desire facial hair growth.
It is one of the most opted methods for beard transplant as it is a minimally-invasive procedure, offering good outcomes with less pain and complications.
Direct hair transplant
Direct hair transplant (DHI) is an advanced version of FUE. The hair transplant surgeon directly implants the harvested individual follicular units into the recipient area using a specialized implanter pen.
DHI offers better results as there is less hair damage and root loss during the procedure. Moreover, it offers quicker recovery, minimum pain, no visible scars, and 100% results.
Procedure for beard transplant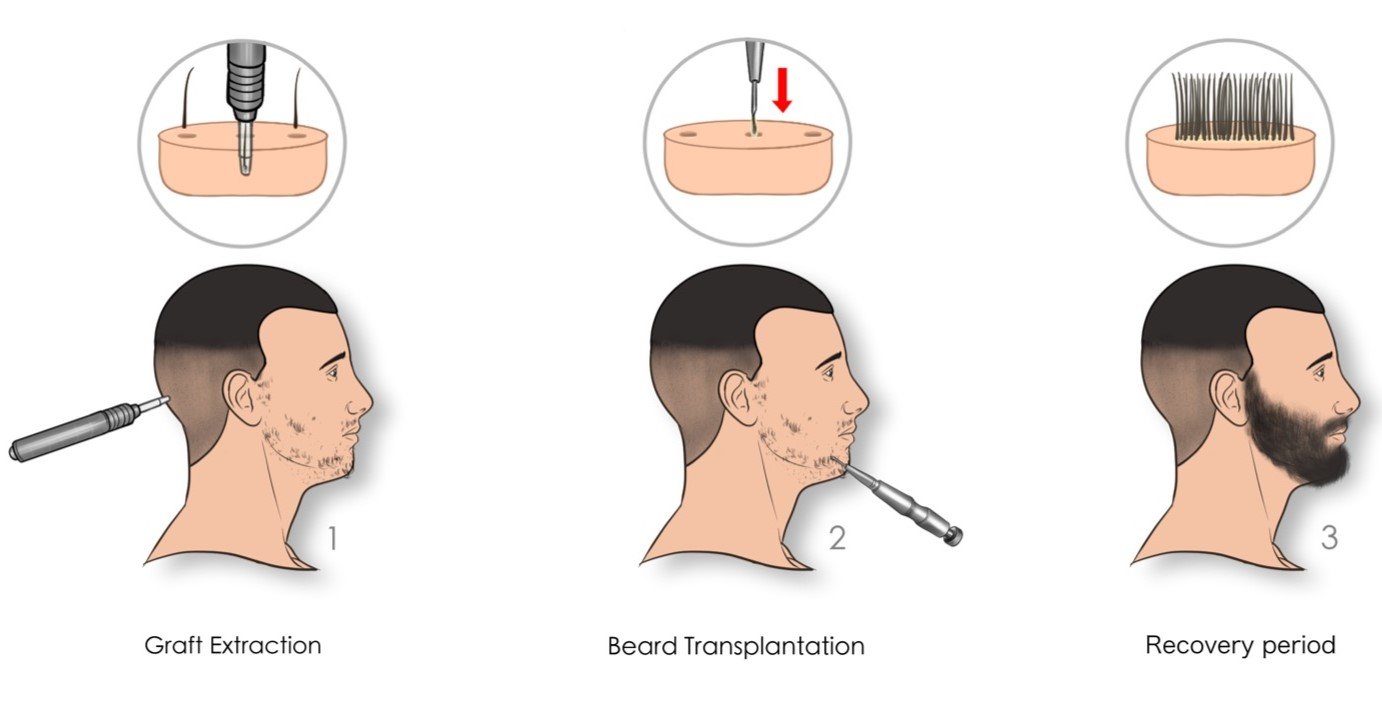 Consultation
During your consultation for a beard transplant in Jaipur, Dr. Deepesh Goyal will examine your beard area and talk about your medical history to determine the cause of scanty or no beard hair.
He will also evaluate your donor area to see if sufficient hair grafts are available for the procedure.
He will discuss your expectations and desired look to ensure the procedure is customized to meet your needs.
Harvesting
Before undergoing a beard transplant, the clinic staff will shave the donor area. It helps the hair transplant surgeon get a clear view of the hair follicles.
Before starting the procedure, you will receive local anesthesia so that you do not feel any pain during the harvesting and implantation.
Further, the doctor will mark the recipient area according to your preferred beard style.
Implantation
After removing the hair grafts from your head, the surgeon will insert them in your facial skin with extreme precision and proper angle to ensure a natural result.
Recovery
After the beard transplant procedure, you will need a day to recover.
You may notice tiny crusts around the transplanted hair follicles, which will fall off within some days.
You are not allowed to shave or trim your new beard for 8 to 10 days.
Please do not panic if the transplanted hair falls off after two to three weeks. This is a normal process; new hair will replace them within 3 to 4 months and grow for life.
You will see the results after at least 8 to 9 months.
What are the side effects of a beard transplant?
Some common side effects of beard transplant are:
Redness
Swelling
Numbness
Tightness
Scabs
FUE hair transplant may leave behind tiny scars which are mostly invisible. However, if irritation, swelling, redness, or crustiness persist even after a week or two, please talk to your doctor about it.
Instructions to follow at home
After your beard transplant in Jaipur, Dr. Deepesh Goyal may prescribe some antibiotic medications and ointments for quicker recovery.
Further, he will ask you to stay away from the following activities for some days:
Smoking
Swimming
Direct exposure to sunlight
Hot tub and sauna
Scratching, rubbing, or touching the donor and recipient areas
Vigorous activities that make you sweat
The doctor may ask you not to wash or scrub your face for a few days. In order to avoid infection, refrain from touching your treatment areas even though they may feel sensitive and itchy.

What is the cost of a beard transplant?
The cost of a beard transplant in Jaipur at Rejuvena Cosmo Care depends on the technique used and the number of grafts needed.
During your initial consultation, Dr. Deepesh Goyal will analyze the graft requirements depending on your specific needs and desired look.
The cost per graft ranges from Rs. 40 to Rs. 50 at the clinic. You may find this price steep, but a beard hair transplant is an intricate procedure that requires proficiency and experience.
What are the advantages of a beard transplant?
Safe and permanent procedure
Minimum or no scarring
Zero downtime
The beard can be trimmed and shaved as usual
You can style your beard as you wish
It helps cover burns and scars
Boost self-confidence
Why choose Rejuvena Cosmo Care?
Rejuvena Cosmo Care is a state-of-the-art clinic known for providing high-quality, world-class treatments and procedures using top-of-line technology and equipment.
Dr. Deepesh Goyal is one of the best surgeons for hair transplant in Jaipur, having treated thousands of patients successfully.
At our clinic, we pay the utmost attention to patient satisfaction and safety. We are available to assist them around the clock.