For the majority of men, beard hair is a sign of masculinity. Thus, for men losing their hair is losing manhood. As we know that men enjoy it when their beard hair starts sprouting up as teenagers. There are some men who are not able to get a beard at the time of their teenage. Therefore, for such boys beard transplant in Jaipur is the best option they can opt for. Here at Jaipur, Dr. Deepesh Goyal is the best hair transplant surgeon for beard and hair transplant in Jaipur.
Who needs a beard and facial hair transplant?
Scars appeared due to surgical procedures, trauma, or any burn.
Males with less dense hair on their face.
Beard Hair loss due to any previous surgery which happened on the face.
Hairlessness on the face due to other medical condition like cancer
Procedure for beard transplant
First of all, the donor area of the head and face is determined. Then the design of the beard is finalized. The doctor will then discuss with you the design and density of the beard you want to have. Before starting the transplant process, one should have to undergo some blood tests and some common physical tests to ensure they are a suitable candidate for the procedure.
There are 2 techniques that are used for a beard transplant:
FUE Method
In FUE, the hair follicular units are removed directly from the scalp. In this method, the area where the beard hair has to be transplanted is separated. This makes the area clear for the doctor to work inside. This makes the activity easier and helps in getting the results needed for more normal-looking hair. In the subsequent stage, the hair grafts are taken from the back or side of your head. They are transplanted into the cheek and chin. Usually, the facial hair transplant is done using the FUE method. Therefore, there are no marks or scars, no bleeding, and the recovery is very fast. Nowadays hair transplant method is used for beard transplant because the procedure used here is advance.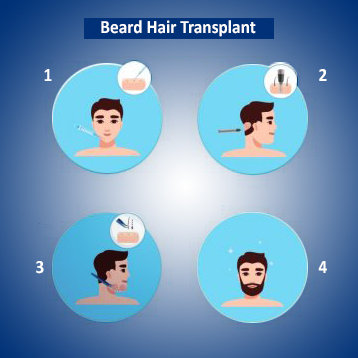 Direct Hair Transplant
DHT technique is the advanced version of the FUE method where the follicular unit is extracted individually from the donors' area of the patient. Then these extracted follicles are then implanted on a bald patch of the patients with the patent device called transplanted. It is used for beard transplant as it is one of the most advance technique used for hair transplant as it is scarless, painless, and provide 100% result.
What is post-procedure care?
Antibiotics are given for seven days
Shaving is not permitted for a week
After the transplant, the hair will start growing after 4 months
Most of the patients are satisfied with the one sitting once the procedure is done. Second sitting is required for touch up.
Cost of beard transplant in Jaipur
The price per graft varies depending on the donor area. The average indicator for different styles or facial areas is:
For beard 500-800 grafts are required
600-1200 grafts are required for a full goatee
300 to 500 grafts per cheek is required
For per graft, the price ranges from Rs. 40 to Rs. 50.
The procedure of beard transplant costs around Rs. 40,000 to Rs. 60,000 for 600 grafts. This transplant is costly because it requires a lot of artistic skills with medical expertise. The prices at which we provide hair transplant is the most affordable hair transplant cost in Jaipur.
Complications seen after beard transplant are:
Irregularities or bumpiness occur in the transplanted area.
Redness and swelling persist in the facial area for a few days after the transplant. It is common and is reduced within 2-3 days.
Initial hair will fall away
Hair growth may take several months
Advantages of beard transplant
Safe procedure
Permanent result
Painless procedure with 100% result.
The new beard can be shaved and trimmed as usual
You can style the beard as per your preference
It covers the scars or burned skin
Transplanted hair function as normal hair
Why choose Rejuvena Cosmo Care for beard transplant?
Rejuvena Cosmo Care is the best place to undergo hair transplant surgery.
Our surgeons provide 100% results
Methods used are DHT and FUE which are painless and leave no scar. Therefore, low risk is here.
Many patients who come to Rejuvena for beard transplants are fully satisfied with the result.
Frequently Asked Questions
1.Is the process painful?
No, it is not painful as local anesthesia is given before surgery.
2. Is there a risk of occurrence of scars?
No there is no risk of scar as we use techniques which do not cause scaring.
3. When can one shave after the surgery?
Doctor suggests not to shave for 15 days post-surgery. For some patients it is advised to carefully trim their hair after a week.
4. What is the recovery time?
It takes around 2-4 weeks to fully recover.