As your body ages, wrinkles and sagging skin occurs. The ability of your skin to create elastin and collagen, which contribute to the suppleness and firmness of your skin, deteriorates.
Rejuvena Cosmo care is a well-known plastic surgery clinic in Jaipur. It is founded by Dr. Deepesh Goyal. You have the alternative of opting for a non-surgical skin tightening treatment in Jaipur.
Aesthetic surgery, cleft surgery, trauma, and post-cancer reconstructive surgery are among Dr. Goyal's special interests.
Dr. Deepesh Goyal is proficient in carrying out procedures such as liposuction, contouring, gynecomastia, rhinoplasty, scar treatment, facial rejuvenation, and skin tightening, to name a few.
That is why he is sought after amongst the best plastic surgeon in Jaipur. Moreover, hair transplants are also among his specialties. Dr. Deepesh Goyal is one of the top hair transplant surgeons in Jaipur. He offers FUE hair transplants, brow transplants, beard and mustache transplants, PRP, and mesotherapy, to name a few treatments.
Many non-invasive techniques have been developed using radiofrequency, ultrasound, and lasers in recent years to help tighten the skin on the face and elsewhere on the body. Even though these treatments are non-surgical, they need expertise and remarkable precision. And must be performed by a certified plastic surgeon.
Different Types of Skin Tightening Procedures:
The basic process involves giving targeted heat energy to your skin's deeper layers, causing collagen and elastin production to increase. This process helps in building new skin cells.
Your surgeon implements this process using one of the below-mentioned procedures.
High-Intensity Focused Ultrasound (HIFU):
In this process, the specialist sends heat deep into your skin, up to 5 millimeters below the surface, using a micro-focused ultrasound. It stimulates collagen, which helps to tighten and lift skin on the face, neck, and upper chest, eliminating wrinkles.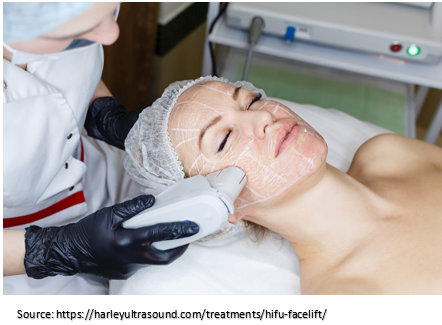 First, the surgeon will clean your face and then apply a topical anesthetic on your face.
Your doctor will administer short pulses of high energy to the affected area for 30-90 minutes.
As a result, your face may swell or become red. But this is short-term. It becomes normal soon.
It may take up to 6 months for the results of your ultrasound therapy to manifest. But you may notice some changes after just one treatment.
Radiofrequency (RF) therapy:
In this type of treatment, the doctor uses high-frequency radio waves to treat.
The doctor will use a handheld device to send heat into your skin to trigger collagen formation, similar to how ultrasound skin tightening works.
Unlike ultrasound, radiofrequency targets the epidermis, the outer layer of your skin. According to the FDA, it can treat the face, neck, torso, and hands.
To treat deeper layers of skin, surgeons can combine RF treatments with microneedling.
While many people experience effects after just one RF treatment, it can take anywhere from two to six treatments to obtain the desired outcomes. With the appropriate skincare routine, results can last up to three years.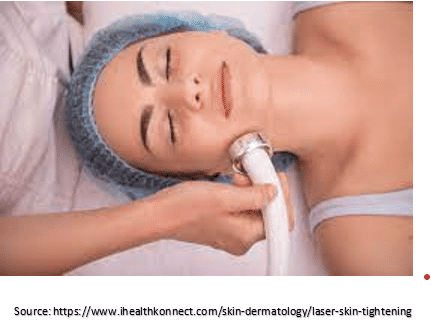 Laser Treatment:
The surgeon uses handheld lasers to inject heat deep into your skin, shattering the epidermis and reaching the underlying dermis. Laser treatments are especially effective on the skin of the stomach and upper arms. The majority of people undergo three to five treatments.
Intense Pulsed Light (IPL):
The deep layers of your skin are exposed to a variety of wavelengths of light. Multiple treatments are usually required. The surgeons frequently use IPL in conjunction with radio-frequency.
The doctor can target deeper layers of your skin with the RF treatment. They can treat a larger area of skin and a wider range of skin disorders using the IPL. For people with tanned or darker skin, IPL treatments are usually not suggested.
Consequences:
All of these treatments take less than an hour and are done in a doctor's office. Within a day following therapy, you should be able to resume normal activities.
The doctor can treat mild discomfort and side effects with pain relievers and other medicines. Their side effects are usually minor like, redness, numbness, bruising, or discomfort.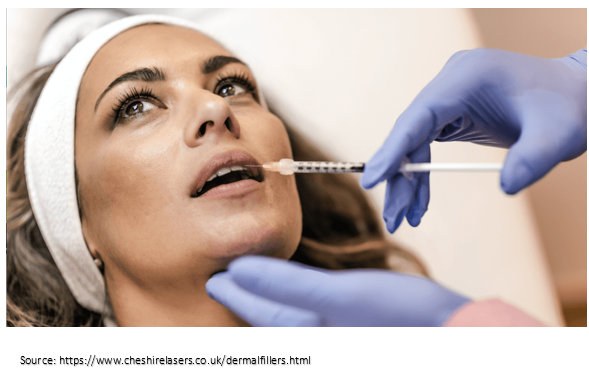 Fillers:
Fat, collagen and hyaluronic acid are all used to fill the soft tissues using injections. They smoothen wrinkles and fill your skin.
Although you may experience some swelling and redness or numbness, the results are noticeable almost immediately once the swelling goes down.
Hollywood Laser Facial:
The steps in the technique are as follows:
The procedure begins with a vitamin C cleanser and is followed by crystal-free hydra dermabrasion.
The dermatologist will then apply a charcoal peel. The carbon is then heated using a Q-switched laser to improve the skin's tone and clarity.
The dermatologist finishes by applying aloevera gel and a moisturizing mask to the treated region. The results are evident after a few facials.
PRP: Platelet Rich Plasma
PRP is a safe and effective treatment for periorbital wrinkles and skin renewal in general.
PRP includes growth factors that help the body repair.
PRP for skin rejuvenation has achieved exceptional results, with a considerable improvement in epidermal thickness.
It also improves the skin's overall quality.
Conclusion:
Topical lotions and ointments usually produce only little results. You have to use them for a long period to see little effect.

You have to follow cleansing, toning, serum, and moisturising daily to maintain your skin's health.

Applying sunscreen every day will prevent damage to your skin.