If your skin starts aging due to excess sun exposure, you need to enhance your skin. It is called photoaging which includes the aging of the face, hands, neck, and ears. Get rid of the adverse effects of sun damage, photoaging, or hyperpigmentation with the innovative photo rejuvenation treatment.
Photo rejuvenation treatment, also known as a photo-facial, makes the skin fresh, healthier, and younger-looking by reversing age-related pigmentation, spots and minimizing wrinkles and fine lines. If you want to achieve a better-looking face, avail advanced and cost-efficient photo rejuvenation in Jaipur at Rejuvena Cosmo Care.
At Rejuvena Cosmo Care, you will receive photo rejuvenation treatment from Dr. Deepesh Goyal, one of the leading plastic surgeon in Jaipur. Moreover, Dr. Goyal is renowned for performing effectual and result-oriented plastic surgery in Jaipur. He specializes in laser acne treatment, hair transplant, reconstructive surgery, liposuction, and many other cosmetic procedures.
Continue reading this article to know about photo rejuvenation, cost, candidacy, treatment, and more.
First, let's know,
What is Photo Rejuvenation?
Photo rejuvenation is a technique that employs light and laser therapy to renew the skin and make it appear smoother and younger. In photo rejuvenation techniques, two forms of broadband lights are used: IPL and LED.
Both penetrate deep into the skin to activate dormant skin cells and promote new collagen and elastin growth.
1. Intense pulsed light (IPL) treatments
IPL is a powerful broad range light. It sends high-intensity laser pulses deep into the epidermis, causing blood vessels and collagen fibres to contract without causing damage to the skin's surface layer.
IPL is more efficient at treating skin disorders because the light is absorbed by red blood cells and melanin deep into the skin as soon as it is targeted. It breaks the pigmentation and also accelerates cell turnover. It helps restore a more even complexion to red, spotty, sun-damaged skin.
IPL can be used to treat:
Pigmented vascular lesions
Pigmented skin patches or scars
Stretch marks
Fine lines and wrinkles
Dark hair on the face, chest, arms, or back
Other forms of skin discoloration
2. Light-emitting diode (LED) treatment
Different colors and wavelengths are used in LED photo facials depending on the skin condition being addressed. For example, blue light kills germs and encourages collagen synthesis to cure acne, while red light stimulates collagen production to treat fine lines and wrinkles.
IPL is similar to LED green light. However, it effectively reduces the appearance of brown spots and other melanin-related issues by breaking up pigmentation for easy absorption.
Let's know,
Who is Eligible for Photo Rejuvenation?
Photo rejuvenation is beneficial for individuals who have light skin and have some flexibility in their skin.
IPL procedures are not recommended for people with dark skin tones or deep tans. People with darker skin tones are more likely to suffer pigmentation issues and even skin burns.
What is the Cost of Photo Rejuvenation in Jaipur?
The cost of photo rejuvenation in Jaipur ranges from Rs. 3,000 to Rs. 5,000 for a single session. Most people require multiple sessions for the most effective results. The prices typically vary based on location and the individual provider.
What are the Preoperative Instructions for Photo Rejuvenation?
It is essential to follow the doctor's instructions to get the best results, which include:
Before treatment, the doctor advises the patients to stay out of the sun for at least one month.
Avoid taking alcohol, ibuprofen, and aspirin at least one week before the treatment.
The patient should inform the doctor if they take antibiotics, blood thinners, or Accutane.
LED photo rejuvenation does not require any special preparations.
Now, let's know,
The Actual Procedure of Photo Rejuvenation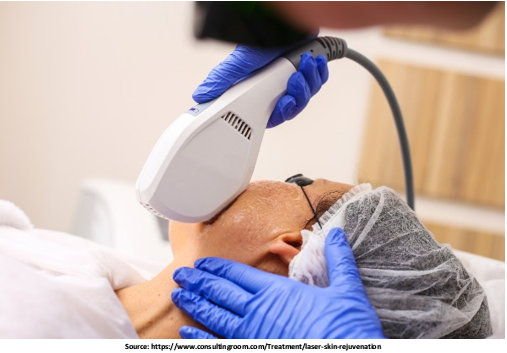 First, the doctor will wash and massage the skin to prepare it for microdermabrasion.
Next, the doctor may polish the skin with medical-grade minerals to remove the stratum corneum, i.e., the top layer of the skin.
Then, the doctor can apply extra crystals to the skin before washing the minerals.
Further, the doctor will apply a cool gel to the skin and put the goggles over the patient's eyes.
Then, the doctor will release a short pulse of light in each segment until the entire area is covered.
Next, the doctor will remove the gel and clean the skin thoroughly.
In the end, the doctor may use a vitamin C cooling mask to supply more vitamins to the skin, lessen redness, and apply sunscreen.
Let's know,
What are the Benefits of Photo Rejuvenation?
Safe and non-surgical.
Short sessions of 1 hour or less.
Reduces hyperpigmentation and redness
Reduces fine lines and wrinkles
Provides a more youthful skin
Eliminates photodamage and acne-causing bacteria
Boosts blood circulation in the treated area
What are the Disadvantages of Photo Rejuvenation?
Expensive compared to chemical peels or microdermabrasion.
Requires multiple sessions for effective results.
Some treatments are not suitable for darker skin.
What are the Side Effects of Photo Rejuvenation?
The treatment has no side effects because it is non-surgical, except for mild redness that can last for a few hours to a day or two.
After the treatment, the patient can immediately resume daily activities.
If you think of getting photo rejuvenation in Jaipur, make an appointment at Rejuvena Cosmo Care to know more about photo rejuvenation treatment, exact cost, and other related information.