Is your patchy or uneven hair giving you sleepless nights?

Do you suffer from low self-esteem because of your hair loss?

Are you looking for a solution that is painless and surgery-free?

Rejuvena Cosmo Care has a proven solution for your hair loss problem. We offer – Mesotherapy treatment in Jaipur through Dr. Deepesh Goyal. He is one of the best cosmetic and plastic surgeon in Jaipur who has treated many hair loss patients with mesotherapy treatment. He also provides a result-oriented hair transplant in Jaipur.
What is Mesotherapy Treatment for Hair Loss?
Mesotherapy is a non-surgical method used to combat hair loss and stimulate hair growth. It involves injecting nutrient-rich liquid into the mesoderm of the scalp. Mesoderm is the layer that lies between the tissue of the skin and the layer of fats.
Mesotherapy injections contain medicines, vitamins, hormonal regulators, amino acids, vasodilators, etc. The treatment stimulates hair growth and is used as a method to prevent baldness.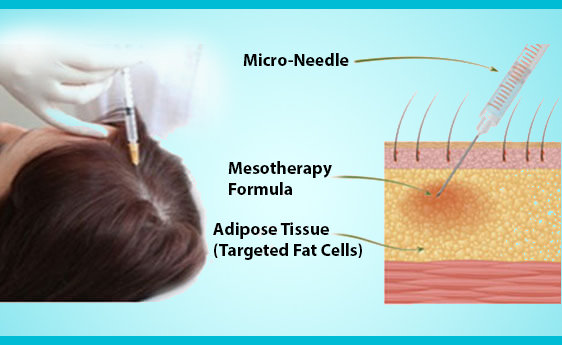 Our mesotherapy treatment varies depending on:
Area of scalp suffering from hair loss or hair thinning
Aim of mesotherapy treatment (hair growth, prevent baldness, patchy hair loss or reduce thinning)
Mesotherapy treatment can also be used for hair regrowth in the implanted area after a hair transplant. It can strengthen and accelerate the growth of new follicles.
How is Mesotherapy Procedure for Hair Loss carried out?
This is how our trichologist will carry out your mesotherapy procedure:
Our trichologist will observe your hair loss and determine the number of mesotherapy sessions you will require.
The number of sessions you require also determines the cost of mesotherapy treatment. You will get one injection per session for around 6 to 10 sessions. Each session is 7 to 10 days apart.
1. Mesotherapy treatment is mostly painless. So, it does not need anaesthesia. The injections our trichologist will use contains the following formula:
Prescription medicines like vasodilators and antibiotics
Hormones such as calcitonin and thyroxin
Enzymes like hyaluronidase and collagenase
Herbal extracts, minerals and vitamins
2. Your scalp is injected at differing depths ranging from 1 to 4 millimeters.
3. Our trichologist injects the needle into your scalp.
You will see your thin or patchy hair cover up with natural hair within a few weeks of treatment.
How much does Mesotherapy cost?
The cost of mesotherapy depends on the type of treatment and the number of sessions. A single session of mesotherapy costs anywhere between Rs. 2000 to Rs. 2500 per injection.
The price depends on the severity of your hair loss. The treatment cost may increase based on the number of sessions you require. So, the charges can be around Rs. 12,000 to Rs. 20,000 for six to ten injections.
Benefits of Mesotherapy Treatment for Hair Loss
The main benefit of mesotherapy treatment is that the results are quite impressive. It rejuvenates the scalp skin using essential nutrients, vitamins and helps in the regrowth of hair.
Some more benefits that you get from mesotherapy treatment include:
Being a non-surgical, mesotherapy treatment is almost painless.
There is no downtime needed after the treatment. You can get back to your regular work schedule instantly after the treatment.
The result of mesotherapy treatment is very impressive. You will quickly and easily get rid of hair loss and baldness problems, partially as well as completely.
Mesotherapy procedure is much cheaper than the surgical method.
Apart from injections, the treatment does not require any surgery.
The recovery time of mesotherapy treatment is also comparatively short. It takes 4 or 5 days to see the result.
Side Effects of Mesotherapy Treatment for Hair Loss
Mesotherapy treatment is a safe and effective process. There is relatively no side effect. However, sometimes according to your stamina; you may suffer from the following side effects:
Pain
Sensitivity
Bruising
Skin-redness
Rash or scratches
Dark patches of skin
Itching
Swelling
Mesotherapy treatment for hair loss may prevent the need for other expensive and painful surgeries. Also, for best and quick results, you should take a nutritional diet.
Make sure you follow a routine fitness regimen as suggested by our hair expert.
Visit Rejuvena Cosmo Care to experience hair regrowth with non-surgical Mesotherapy hair treatment.
Who is Eligible for Mesotherapy Treatment?
If you are suffering from androgenetic alopecia, you are eligible for mesotherapy treatment
If you have weak, thin or patchy hair loss on the scalp
If you are healthy and do not have any severe illness can go for the mesotherapy treatment procedure
If you can bear minimal pain related to injecting and pin pricking