Hymenoplasty in Jaipur is a common procedure. This surgery is also known as hymen restoration procedure for -women who want to restore their hymen for cultural, religious, or ethnic reasons.
Hymen, somewhat considered a symbol of virginity, is a ring-like thin membrane in the vagina. It is a myth that it gets damaged only when a female engages in intercourse; some strenuous activities like horse riding, cycling, and other vigorous sports can also damage the hymen.
Such procedures are not generally regarded as part of mainstream gynecology but are available at some plastic surgery centres, generally as day surgery. The specific aim is to cause bleeding during post-nuptial intercourse, which is considered proof of virginity in some cultures.
Dr. Deepesh Goyal, a leading plastic surgeon in Jaipur, is an expert in Hymenoplasty. He has extensive experience and skills in liposuction, hair transplant, reconstructive surgeries and hymenoplasty.

He is the most searched doctor for hymenoplasty near me in Jaipur as people are assured of superior treatment. Further, our clinic, Rejuvena Cosmo Care, is very particular about patient's privacy and confidentiality.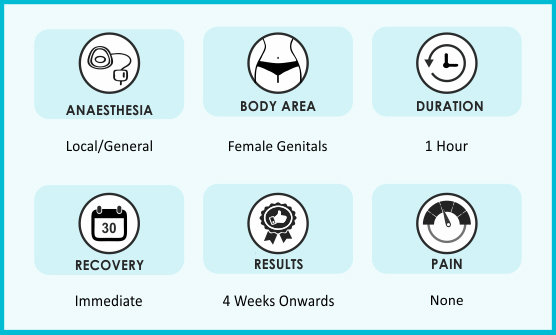 What is the procedure for hymenoplasty in Jaipur?
There are different types of procedures available for hymenoplasty in Jaipur, and Dr. Deepesh Goyal will recommend the right one after a detailed examination.
Hymenoplasty is a non-painful process performed under local anesthesia.
Different types of techniques for hymenoplasty in Jaipur:
The most common technique is suturing the torn edges of the hymen back together. The stitches are done using material that will get dissolved on its own within a few days.

This technique is used in cases where there are no remains of a hymen. Here, the doctor will create a membrane without blood supply and include a gelatine capsule of an artificial blood-like substance. This operation is performed a few days before an intended marriage.
In this technique, the doctor uses tissues from the vaginal lining, complete with its blood supply, to create a new hymen. Patients are advised to refrain from penetrative sex for up to three months following this procedure.
Post-Surgery
You can return home within a few hours after the surgery. The stitches will dissolve within 10 to 15 days. And the scar will be invisible as it is hidden in the hymen folds.
Why choose Rejuvena Cosmo Care for hymenoplasty in Jaipur?
Hymenoplasty, as the name suggests, is the reconstruction of the hymen in the females. Hymen formation usually involves re-attachment /re-stitching of the hymen, generally for cultural and religious purposes. We at Rejuvena Cosmo Care understand your concern and offer Hymenoplasty in Jaipur without asking any questions.
Rejuvena Cosmo Care is known for its professional services and is one of the premium clinics to offer Hymenoplasty surgery in Jaipur.
Our founder, Dr. Deepesh Goyal, is one of the best plastic surgeon in Jaipur, having years of experience in all types of cosmetic surgeries.
Our modern clinic has the latest technology and equipment along with a dedicated and friendly staff. Our standards of safety and care are first class. Furthermore, the Hymenoplasty cost in Jaipur at our clinic is affordable.
Recovery after Hymenoplasty
The complete recovery post-surgery takes somewhere around 4-6 weeks. It includes the healing of surgical wounds. During this time, take proper care and follow good hygiene to avoid any infection.
Also, patients must give themselves time before climbing stairs or indulging in sports or heavy workouts. Avoiding exhausting activities is highly recommended to speed up the healing process.
For females concerned with marriage and who want to get hymenoplasty done, it is recommended to undergo this procedure at least 3-4 weeks before the wedding. This eliminates any cause for infection.
What are the side-effects of hymenoplasty?
Some common side-effects include:
Swelling and bruising
Discomfort while walking
Vaginal discharge having an unpleasant odour
Loss of sensitivity in the perineum area
However, if you have any abdominal pain or fever, then you must contact your doctor immediately.
Frequently Asked Questions
1.What is the hymenoplasty cost in Jaipur?
The hymenoplasty cost in Jaipur varies from clinic to clinic. It generally depends on the type of technique used for the procedure and the doctor's expertise.
2. Are the results permanent?
The surgery results will remain intact until you have any sexual intercourse or do any rigorous physical activity.
3. Will there be a scar after this surgery?
There are no scars after this surgery. After you are fully recovered, your hymen becomes intact like a natural one, and there will be no visible signs of the surgery.
‍