Are you suffering from massive hair loss?

Well, Rejuvena Cosmo Care is providing one of the best PRP hair treatments at an affordable price in Jaipur.

Our platelet-rich plasma therapy is one of the highly appreciated procedures for treating hair loss in a safe way.

We are a one-stop solution for all kinds of cosmetic treatments.
If you are suffering from excessive hair loss which is causing visible baldness then it is a matter of great concern. Because healthy hair with proper thickness is essential for your youthful looks.
Platelet-rich plasma (PRP) therapy can become a suitable option to stop your hair loss. It will bring back your natural youthful look. PRP hair treatment is one of the best treatment options for people suffering from hair loss. We at Rejuvena Cosmo Care provides one of the best non-surgical hair transplant in Jaipur at most affordable cost.
Dr. Deepesh Goyal is a renowned cosmetic and plastic surgeon in Jaipur. He performs all types of cosmetic surgeries at
Rejuvena Clinic. He is having 11 years of experience in this field. He treats using all kinds of modern tools, and technology as per the international medical standards. On average, he performs more than 500 successful cosmetic surgeries every year. He has published 85 articles in different journals and magazines till now.
What is Platelet-Rich Plasma (PRP) hair treatment?
Platelet-rich plasma (PRP) therapy is a hair regrowth technique where your plasma cells are utilized to induce hair development into your scalp.
In this technique, platelet-rich plasma is extracted from your blood and infused into the scalp through injections. Your platelet-rich-plasma is packed with nutrients. These nutrients activate the hair follicles in your scalp. Eventually, that results in the regrowth of your hair.
The treatment is getting highly used throughout the world because it has a high success rate in treating both male pattern and female pattern baldness.
Benefits of PRP Hair treatment:
The treatment will give you the least amount of irritation.
There is no chance of having a scar on your scalp as it is a non-surgical process.
The process is minimally invasive hence it's safe.
It brings back your natural hair density.
There are no side effects in the long run.
The cost of the PRP treatment is less than other cosmetic surgeries.
How is PRP therapy performed?
The steps that we follow while performing plasma therapy is as per the following:
Stage 1 – Extraction of close around 50 ml blood from your arm
Stage 2 – Spinning the extricated blood in an axis machine to isolate platelet-less plasma, platelet-rich plasma, and red platelets.
Stage 3 – Cleaning your scalp with iodine or a rich cleaning specialist.
Stage 4 – Injecting the platelet-rich plasma into the bald portion of your scalp.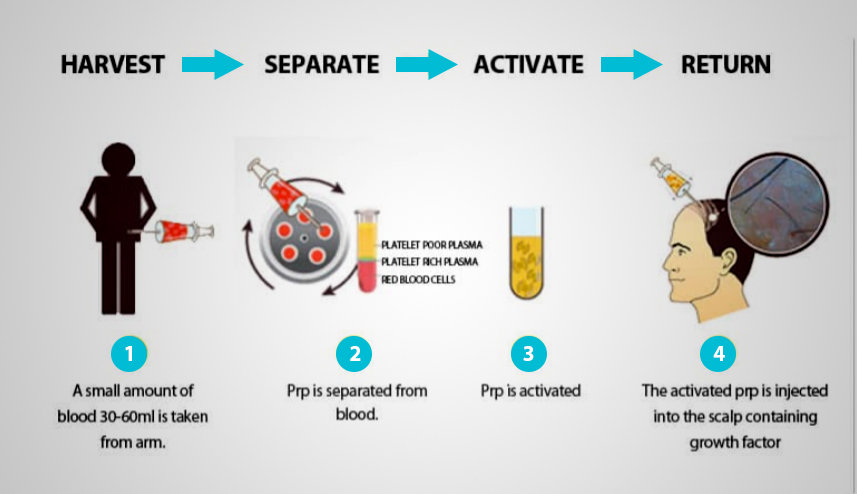 A session of PRP therapy goes through these steps.
You will need four to six sessions of PRP therapy to get the best result.
Cost of PRP treatment in Jaipur:
The PRP treatment cost ranges from Rs. 3000 to Rs. 5000 for every session. The price will change according to the need of the patient. The fundamental variables behind the expense are as per the following-
The number of sessions you require
Your required hair density
Your treatment area
Why choose Rejuvena Cosmo care?
Rejuvena Cosmo Care is a one-stop solution for all your hair and skin problems.
Our centre was established by our managing director Dr. Deepesh goyal. He is one of the most talented and well-experienced doctors at Jaipur for PRP therapy.
Our centre is well equipped with all types of advanced tools and technologies required to perform procedures.
We provide the best PRP treatment to our patients at an affordable price.
We aim to give you premium quality treatment and make you feel happy and confident.
We are having one of the best teams in our center with us. We believe that all our patient is important to us. As a result, we always take extra care of our patients.