Is your patchy or uneven hair making you nervous?
Are you unhappy with your dull hair and looking for painless, non-surgical hair loss treatment?
Visit Rejuvena Cosmo Care; a renowned clinic for plastic surgery in Jaipur. We have a proven solution for your dull and damaged hair. We offer Scalp rejuvenation treatment in Jaipur by Dr. Deepesh Goyal. He is one of the best cosmetic and plastic surgeon who has treated many hair loss patients with scalp rejuvenation treatment.
What is the Scalp Rejuvenation?
Your hair's condition is directly related to the health and quality of your blood. Toxins in your blood, such as excess sugars, fats, and acids, create extra heat in the blood. This increased energy escapes from the body through the scalp, causing damage to the hair follicles, greying hair, and hair loss.
To well-maintain and thicken your hair, your scalp needs rejuvenation. Through our scalp rejuvenation treatment, you can strengthen your scalp and regrow hair. Our doctor will examine your scalp thoroughly and ensure that your hair grows back. If you require scalp rejuvenation, then there is no better place in Jaipur than Rejuvena Cosmo Care.
How is scalp rejuvenation done?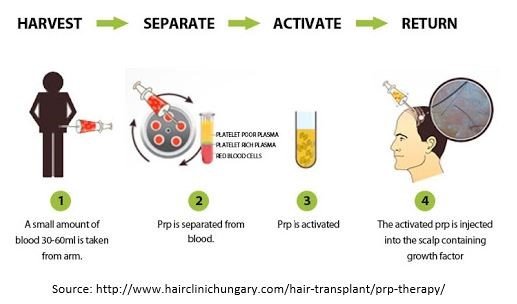 First, we use the patient's blood to avoid hypersensitivity or allergies.
The blood consists of platelets, which have a substance known as the "growth factor." It rejuvenates and activates the body cells.
The platelets help blood vessels grow and form new collagen.
We get the platelets by centrifugation of the blood sample.
Further, we inject these platelets into your scalp to promote hair regrowth.
It takes about 20 to 30 minutes for the entire procedure.
What to expect after the scalp rejuvenation treatment?
Overall, treatments can vary, and you may need 6 to 14 rejuvenation sessions to achieve natural and dense hair growth. We can do treatments at an interval of three to four months for better and effective results. You can see hair growth within three months after the treatment.
Benefits of a scalp rejuvenation treatment:
Hair follicles on the scalp get clogged with various impurities. The most common is sebum, the natural oil secreted from the hair follicle's sebaceous gland. This oil combines with dirt particles and chemical residues from hair products and clogs those pores. Scalp treatments are most useful to clear them and reset sebum levels.
The exfoliation and massage segments of a scalp rejuvenation stimulate blood flow to your scalp, making it easier for blood to reach your follicles and deliver essential nutrients. The hair that regrows out of those nutrient-rich follicles will be healthy and supple.
Dandruff is the result of too much or less oil production. If your scalp produces inadequate oil, then it irritates your scalp and causes flakiness. A scalp rejuvenation includes exfoliation to remove dead skin, leaving a layer of fresh and healthy skin.
Clogged hair follicles can obstruct hair regrowth. When we unclog those hair follicles and reset the sebum levels, your hair grows back much healthier. Some scalps need unique products or medications to remove an excessive amount of build-up. But if caught earlier, a simple scalp treatment can promote the growth of thicker and healthier hair.
We also offer hair mesotherapy, which is another effective method for boosting hair growth. In this method, our doctor injects vitamins, growth factors, and proteins into your scalp. It helps hair growth by increasing blood supply and triggering cell metabolism.
Why choose us?
The Rejuvena Cosmo Care is a one-stop destination for high-quality hair and skin treatments. Moreover, it is one of the leading hair transplant clinics in Jaipur.
Dr. Deepesh Goyal, our Founder, is among the best hair transplant surgeons in Jaipur.
Our team includes seven highly qualified and experienced surgeons and technicians who are well-trained in a wide range of hair and skin care procedures.
Rejuvena has state-of-the-art medical infrastructure which matches international standards and helps deliver desired results.
Rejuvena Cosmo Care aims to fulfill the highest aesthetic expertise with a personalized touch and care. We are advancing and improving our techniques so that our clients get the highest level of satisfaction.
Our team of experienced doctors ensures that you get the best scalp rejuvenation treatment in Jaipur.
To seek the most effective and cost-efficient hair loss treatment, book an appointment or call us at Rejuvena Cosmo Care in Jaipur.
Frequently Asked Questions:
1.How often should you do a scalp treatment?
If you notice that your scalp is dehydrated and needs nourishments, a scalp treatment can be beneficial. In such cases, you should get one whenever you see your hair becoming lifeless and dull at least every four to six weeks.
2. What causes hair follicles to die?
Some autoimmune conditions such as Alopecia areata, excessive hair styling, dyeing, or bleaching can damage follicles, resulting in hair loss.
3. Does massaging the scalp stimulate hair growth?
According to research, scalp massage increases hair density by stretching the cells of follicles. It stimulates the hair follicles to grow denser hair.