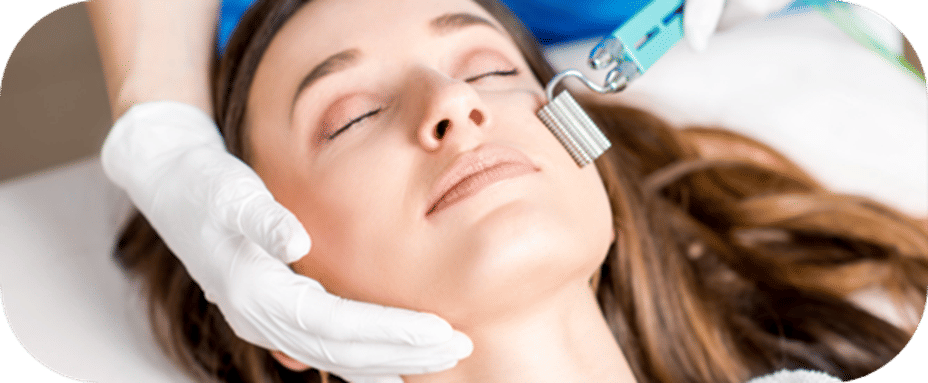 Everyone desires smooth and blemish-free skin. It is wonderful to be complimented on your clear, beautiful skin. Unfortunately, overexposure to the sun, hormone changes, medicine, and free radicals, on the other hand, can dull your skin's radiance and cause it to darken. Pigmentation is a patchy and uneven skin tone that can result from it.
Contrary to popular belief, melasma, freckles, and pigmented patches do not generally go away on their own. In reality, you require treatment to eradicate pigmentations from the face completely.
Rejuvena Cosmo Care, a leading clinic for skin, hair, and plastic surgery, offers various pigmentation treatment in Jaipur.
Well-known plastic surgeon in Jaipur, Dr. Deepesh Goyal, provides a holistic approach to overcoming pigmentation and assisting you in achieving flawless skin. With that goal in mind, our therapies are backed up by the most effective technique and technologies for treating various pigmentation disorders.
Visit one of the best plastic surgery clinic in Jaipur, Rejuvena Cosmo Care, if you are tired of your uneven skin tone and want to get rid of your pigmentation permanently and effectively.
Further, we offer cost-effective pigmentation treatment cost in Jaipur that suits all budgets.
Read on to learn about the highly effective treatment options for pigmentation provided by our experienced cosmetic surgeon in Jaipur.
What causes pigmentation?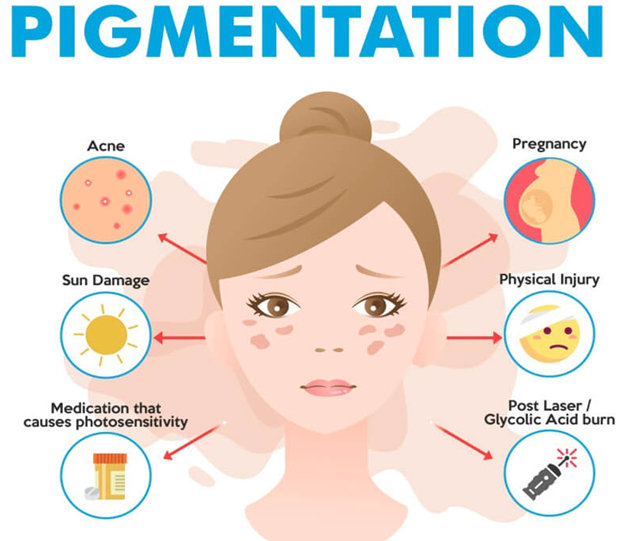 Melanin is the main component responsible for the skin's color. It is made by unique skin cells whose activity can be disrupted by genetics, hormonal imbalances, and sun exposure.
As a result, hyperpigmentation starts to cluster in patches in various places of the face, resulting in dark spots. Excessive sun exposure, mainly if no protective protection is utilized, might increase this.
Types of pigmentation
Sunspots
Age spots
Melasma
Post-acne skin pigmentation
Post-inflammatory hyperpigmentation
Who is the ideal candidate for pigmentation treatment?
Before starting your pigmentation treatment, Dr. Deepesh Goyal, a highly experienced plastic surgeon in Jaipur, will examine your skin and ask about your medical history.
There are a few requirements that you must meet in order to be a good candidate for pigmentation treatments. You must, first and foremost, be in good physical condition so that you can recover quickly after treatment. Apart from this, candidates should also fit the following criteria:
Being a non-smoker is preferable as it provides a better outcome
They must adhere to a healthy skin care regimen.
They should use sunscreen daily without fail
They should avoid excess sun exposure
They must not suffer from skin conditions, such as active viral infection
What are the different options for pigmentation treatment?
At Rejuvena Cosmo Care, one of the best plastic surgery clinic in Jaipur, we thoroughly consider all relevant factors before recommending a combination of treatments to obtain the desired results.
Let's have a look at the different pigmentation treatment in Jaipur:
Creams for anti-pigmentation
Our cosmetic surgeon in Jaipur may recommend anti-pigmentation creams and retinoids for those with minor pigmentation. They contain active substances that reduce melanin levels in the skin.
A short-term application may be able to reduce the appearance of dark spots and perhaps treat melasma. However, creams are unable to address deep pigmentation.
Chemical Peels
This treatment peels off the upper damaged skin with the concentrated acid chemical, thereby stimulating the cells to repair and regenerate, resulting in a youthful, fresher, and brighter complexion. Dr. Deepesh Goyal, our expert cosmetic surgeon in Jaipur, will choose different chemicals depending on the skin type, skin tone, and extent of skin damage. It can be conducted at three distinct depths: superficial, moderate, and deep.
CO2 Fractional Laser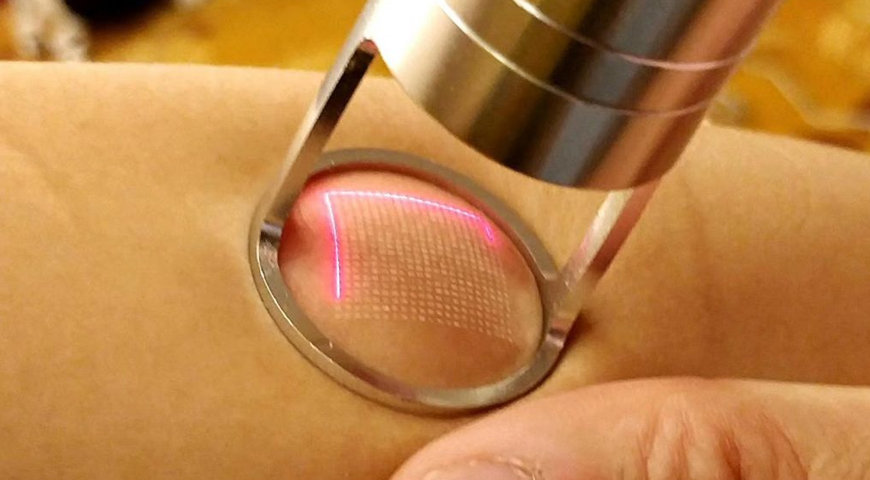 CO2 fractional laser is a skin resurfacing technique that employs a focused laser beam to treat areas of pigmentation. The laser light targets the skin, boosting collagen production and eliminating damaged skin. Many types of devices exist, and no two laser treatments are alike. They do not cause your skin to peel, so you won't have to worry about it becoming thin or never healing. It is an excellent treatment for scars, acne, and pigmentation.
Intense Pulsed Light (IPL)
IPL is one of our clinic's most opted pigmentation treatment in Jaipur. It targets melanin with broad-spectrum light from a portable flashgun. The technique involves multiple wavelengths, and the light energy penetrates the epidermis and dermis layers of the skin, breaking up the melanin particles. A session usually lasts 20-30 minutes.
Q-Switched Laser Treatment
Q-switched laser is a cutting-edge treatment for hyperpigmentation and uneven skin tone. The laser delivers invisible light beams that target the melanin in dark spots without damaging the surrounding area.
This laser penetrates deeper into the skin and reaches places that are difficult to reach, giving the skin an even, smooth tone. Dr. Deepesh Goyal, a proficient cosmetic surgeon in Jaipur, excels in this treatment.
Further, there is zero downtime, and you can resume your regular activities after the treatment.
Glutathione Injections
Glutathione injections are clinically proven, safe, and highly effective treatments for skin whitening. It gives results in a short period, that's why it is a popular treatment.
The injections contain naturally occurring amino acids made from glutamic acid, glycine, and cysteine that help reverse collagen damage and treat skin patches and spots, making your skin radiant and healthy from within.
PRP Therapy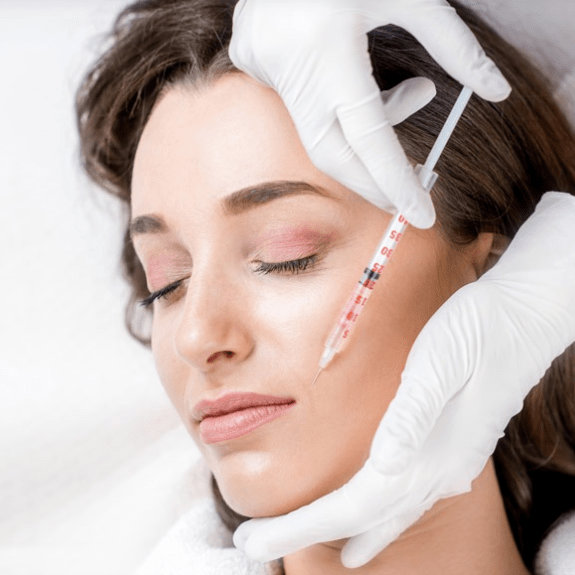 Platelet Rich Plasma (PRP) has long been utilized in medicine due to its capacity to promote the growth of cells generated from the plasma separated from your blood.
The ability of these cells to regenerate tissues makes them an excellent therapy option for aesthetic medicine, particularly in therapies for facial rejuvenation, scar correction, and hair loss. Dr. Deepesh Goyal, a trusted cosmetic surgeon in Jaipur, recommends PRP to his patients looking for a solution to pigmentation.
Derma White Treatment
Derma White consists of medical microdermabrasion / advanced peeling. This revolutionary pigmentation treatment uses a deeper form of exfoliation to induce skin renewal over pigmented uneven skin, removing the affected superficial layers from the epidermis level and displaying the new skin beneath.
The laser ultrasonic is then used to help increase the active metabolism of the skin cells by speeding up the microcirculation process. The skin rejuvenates faster, boosting new collagen formation and remodeling the collagen for a brighter, clearer, healthier-looking skin texture and tone.