Want to get rid of facial blemishes, fine lines, or uneven tone?
Do you want glowing and smoother skin?

At Rejuvena Cosmo Care, we effectively treat acne scars, dull skin, or uneven tone with chemical peeling treatment. Our skin expert, Dr. Deepesh Goyal, provides the best chemical peeling in Jaipur that will improve your skin's appearance by exfoliating the outer layer of skin, giving a smoother and even-toned look.
Our Founder, Dr. Deepesh Goyal, is one of the leading hair and skin specialists in Jaipur with 7+ years of experience. He is adept in a wide range of medical and surgical cosmetic procedures. Moreover, Dr. Deepesh Goyal is best known for his expertise in plastic surgery in Jaipur.
Please continue reading to know about chemical peeling, its cost, types, and benefits.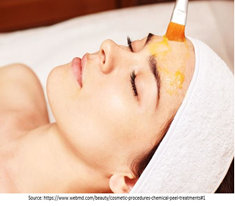 What is Chemical Peeling?
Chemical peeling is a simple and standard procedure used for cosmetic treatment. Our skin specialist will apply mild chemical solutions to your face, neck, or hands and gently peel off the dried chemicals. It helps your skin exfoliate by shedding the outer skin layers. Chemical peeling rejuvenates your skin, giving you a smooth and wrinkle-less look.
How much does a Chemical Peeling Cost in Jaipur?
The chemical peeling cost in Jaipur may vary depending on the type of clinic you choose for your treatment, the kind of treatment you need, the mild or the deeper type of Chemical peeling your skin condition require.
How is Chemical Peeling Done?
Our skin expert will first clean your skin. Then apply one or more chemical solutions like lactic acid, salicylic acid, carbolic acid, etc., to smaller segments of your skin.
Chemical peeling creates controlled wounds on your skin, allowing new skin to take its place. The chemical solution lets the skin blister, causing it to peel off gradually.
The new skin after the treatment is often smooth and less wrinkled.
Our skin specialist can perform chemical peeling on your face, neck, and or hands based on your specific needs.
Chemical peeling is an outpatient procedure. It does not require hospitalization.
Most people feel a slight burning sensation during the treatment, which reduces after 5 to 10 minutes.
Our skin expert suggests using a cold compress on the treated skin to reduce the discomfort.
Types of Chemical Peelings:
In this chemical peel, our skin expert will apply mild acid-containing Alpha-hydroxyl. It will exfoliate by penetrating the outer layer of skin gently. This type of peel improves the texture of rough skin and treats discoloration. We also use it to revive the skin on the face, neck, chest, etc.
It includes glycolic or trichloroacetic acids that help eliminate damaged skin cells by penetrating your skin's external and intermediate layers. Mild skin discoloration, age spots, blemishes, etc., can be treated with this peel.
These peels contain Trichloroacetic acid or phenol that penetrate the middle layer of your skin. This peeling reduces fine lines, freckles, mild scars, etc. It can only be performed once and is known to show dramatic improvement in the skin's appearance.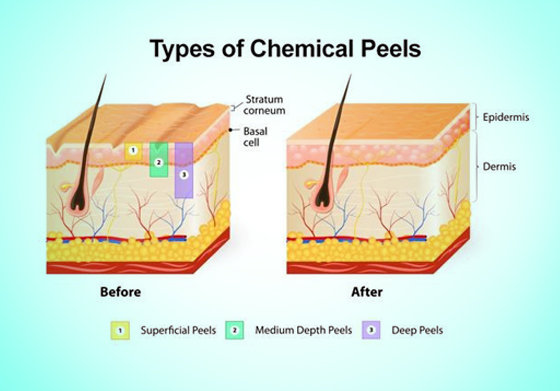 What are the Benefits of Chemical Peelings?
Since the chemical peeling removes dead skin cells, your skincare products will work efficiently on your skin. These products perform better as there is no dead skin to obstruct their effects.
Customization for Dark Skin
Chemical peeling can be customized. Hence can be applied on darker skin without the risk of discoloration.
Chemical peeling can treat acne and reduce acne scars.
Chemical peeling help reduce melasma caused by hormonal imbalance and prolonged sun exposure.
Why Should You Choose Rejuvena For Chemical Peeling in Jaipur?
You will undergo treatment from Dr. Deepesh Goyal, one of the proficient dermatologists in Jaipur.
We have a greater success rate with due expertise to respond to any incident or condition.
Our clinic has US-FDA-approved equipment and unconventional cosmetology devices.
We also offer convenient payment choices as we prefer charging per session. Your comfort is our priority.
If you want to reduce or eliminate facial blemishes, visit us at Rejuvena Cosmo Care or book an appointment with our expert dermatologist and avail of the best skincare.