Are pollution and sun damage stealing your skin's radiance? The skin is also affected by modern and stressful lifestyles. As time passes, they make the skin dull and lustreless.
What is the best way to get your skin back to its original state?
Rejuvena Cosmo Care's skin polishing in Jaipur can leave you with soft, fair, and glowing skin!
If you want to know more about skin polishing treatments, read on this helpful article.
Overview of Skin Polishing
Skin polishing is a process that removes dead skin from the skin's surface to brighten or exfoliate it. It enhances the texture of your skin, making it smoother and reversing skin damage such as tan or uneven skin tone.
The doctor may perform this technique on various body parts, including the neck, hands, and back. They can treat melasma, photoaging, stretch marks, hyperpigmentation, age spots and improve the tone and texture of the skin with skin polishing treatments.
Now, let's know,
Who can Benefit from Skin Polishing?
According to our founder, Dr. Deepesh Goyal, a board-certified cosmetic surgeon in Jaipur, skin polishing benefits those with fine lines, wrinkles, superficial hyperpigmentation, and sun-damaged skin.
It is beneficial for the following issues:
Who is an Ideal Candidate for Skin Polishing?
Dr. Deepesh Goyal, a board-certified plastic and cosmetic surgeon in Jaipur, has established the following criteria for an ideal candidate:
Must be an adult, meaning he or she should be over 18 years.
Have good overall health.
Unhappy with some of the issues on his or her skin, such as acne spots and scars, blemishes, pigmentation, etc.
Apart from this, the candidate must fulfil no special conditions.
Let's discuss the,
Types of Skin Polishing Treatment
At Rejuvena Cosmo Care, one of the best plastic surgery clinic in Jaipur, skin polishing is a gender-neutral procedure performed on both men and women.
Microdermabrasion and chemical peels are the two most common skin polishing treatments. The crystal and diamond microdermabrasion procedures are the most commonly performed by dermatologists and skincare experts.
The number of treatments required varies from person to person, depending on the problem being addressed. They usually require 4 to 12 sessions, 2-3 weeks between each.
Hydradermabrasion
Hydradermabrasion is a novel technique that involves using crystal-free exfoliating products in conjunction with lotions that seep into the skin. This procedure boosts collagen synthesis and blood flow while also eliminating dead skin.
Crystal Microdermabrasion
It is a non-surgical process that sands away the top layer of the skin using the friction principle. Aluminium oxide crystals are sprayed onto the skin at a high rate by the handheld device. Simultaneously, the attached vacuum sucks the dirt and dead skin.
Diamond Microdermabrasion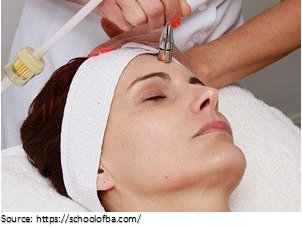 Here, the doctor uses a diamond-tipped handpiece to exfoliate the skin gently. It employs suction to suck in the dead skin and dirt it exfoliates simultaneously.
Skin experts employ this procedure on delicate, thin-skinned areas such as the under-eye and surrounding areas.
Chemical peels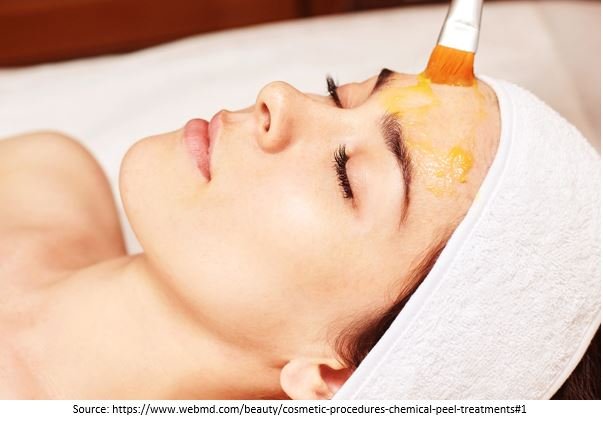 Chemical peels are skin treatments that use fruit acids or other skin-friendly chemicals to exfoliate the skin.
To improve the overall appearance and radiance of the skin, the doctor may utilize chemicals such as glycolic acid, salicylic acid, trichloroacetic acid, lactic acid, or carbolic acid.
The doctor applies these chemicals as a mask for a few minutes. Then, neutralize it with cold water. The top layer of your skin progressively peels away over the next few days.
Now, let's take a look at the,
Benefits of Skin Polishing
The following are some of the advantages of skin polishing:
Even skin tone
More effective than facials
Glowing skin
Removes dead skin cells
Deep exfoliation
Overall increased skin health and appearance
Aftercare of Skin Polishing
In most cases, skin polishing treatments show no side effects. In sensitive skin, it can cause moderate redness. This will fade away in two days.
People can quickly resume their normal activities. However, they should avoid direct sun exposure or apply sunscreens with an SPF of 15 or higher.
Why Choose Dr. Deepesh Goyal for Skin Polishing in Jaipur?
Dr. Deepesh Goyal is a seasoned cosmetic surgeon in Jaipur. He has extensive expertise in executing some of the most cutting-edge cosmetic procedures.
Due to his passion and dedication to his job, he has become a highly accomplished plastic surgery specialist in Jaipur. The title of 'Best Plastic and Cosmetic Surgeon of Rajasthan, 2019' was bestowed upon him.
His patients adore him because of his friendly and caring demeanour, making them feel at ease and secure.
Dr. Goyal is always attentive to his patient's needs and expectations, and he takes the time to explore the options with them.