Blepharoplasty or Eyelid Surgery in Jaipur is one of the most popular aesthetic and functional plastic surgery operations. It is a typically safe and effective cosmetic procedure with a low-risk level that considerably improves the appearance of the eyelids.
The eyelid surgery involves removing extra skin and muscle from these areas and reducing or repositioning the underlying fat to provide a more youthful and fresher look.
Dr. Deepesh Goyal, the founder of Rejuvena Cosmo Care, is considered one of the best plastic surgeon in Jaipur for eyelid surgery. The result of his procedure is natural, beautiful, and long-lasting.
This award-winning surgeon has years of experience and has performed thousands of liposuctions, reconstructive and cosmetic surgeries, and hair transplants.
You can visit Rejuvena Cosmo Care, one of the best plastic surgery clinic in Jaipur, for world-class solutions and treatments.
Let's begin with understanding why people opt for eyelid surgery?
Eyelid surgery may be necessary if sagging or droopy eyelids prevent your eyes from fully opening or drag down your lower eyelids.
By eliminating excess tissue from your upper eyelids, you can improve your vision. Upper and lower eyelid surgery can make your eyes look more attractive and open.
More and more people are undergoing eyelid surgery in Jaipur for the following reason:
Sagging or drooping upper eyelids
Lower eyelids having excessive skin
The skin on your upper eyelids that is limiting your peripheral vision
Under-eye bags
At Rejuvena Cosmo Care, one of the best plastic surgery clinic in Jaipur, we offer eyelid surgery in conjunction with other procedures such as a brow lift, facelift, or skin resurfacing.
Who is an ideal candidate for eyelid surgery in Jaipur?
People in good health and who have a realistic notion of what they desire are the ideal candidates for an eyelift. Most people get the procedure when they are 35 or older, but you may want to have it done sooner if you have a family history of droopy or baggy eyelids.
Preparation for eyelid surgery
Before your eyelid surgery at our clinic, you will have to visit Dr. Deepesh Goyal, one of the best plastic surgeon in Jaipur, for a consultation to discuss your problems and desired results for your eyelids.
He will ask you to undergo some tests before proceeding with the treatment. A physical examination is performed to examine and measure your eyes. There are other tests for vision and tears. Finally, the doctor will photograph your eyelids to aid him during the process.
Inform the surgeon if you are on any medication. He will ask you to stop taking medicines that increase your risk of bleeding. You will also have to give up smoking for a few weeks before the surgery.
You will have to plan for the first few days after surgery, as your eyelids may swell to the point where you won't be able to conduct certain tasks.
Consider pre-cooking meals and ensuring you have everything you need, so you do not have to leave the house. After the surgery, you will need a family member or friend to take you home.
What is the procedure for Eyelid Surgery?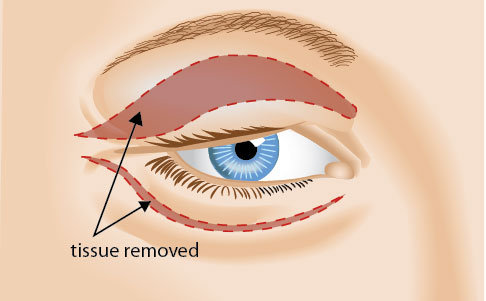 Image source: https://www.ccteyes.com/treatment-options/blepharoplasty/
Eyelid surgery in Jaipur is done as an outpatient procedure. A numbing chemical will be injected into your eyelids.
Dr. Deepesh Goyal will address the upper eyelids first. He will make a small cut and remove excess skin, muscle, and fat from this area. Before he sutures the incision, he may relocate some tissues to other places around the eye.
Lower eyelid surgery often involves removing fat that causes under-eye bags and maybe some amount of skin. The incision is made on the inside or outside of the eyelid, beneath the lower eyelashes. The lower eyelid may be tightened or fastened to the bone skeleton in some people.
Recovery after eyelid surgery in Jaipur
When compared to other types of procedures, eyelid surgery recovery is rather quick. You will be sent to a recovery room right after the process. We will monitor you for side effects and send you home the same day unless complications arise.
It is essential to take it easy for a few days after eyelid surgery. Swelling and discomfort are possible side effects that take a week or two to resolve. Pain relievers are prescribed to alleviate these symptoms. The surgeon may recommend ice packs over the next few days.
After a few days, you will have to visit Dr. Deepesh Goyal for an evaluation and, if necessary, to remove any stitches.
Short-term side effects include blurred vision and light sensitivity. If these symptoms persist for more than a day or two, contact the doctor.
What are the risks of eyelid surgery?
Bruising, bleeding, and infection are all risks associated with surgery. Blood clots are a rare but severe complication.
Other risks include:
Blurry vision
Muscle damage
The harm caused by too much sun exposure
Scars
Unable to shut your eyes
Itching in the area around the eyes