Reconstructive cosmetic surgery repairs parts of your body that have been affected by congenital disabilities, disease-related defects, or injury-related defects.
Birth deformities, tumors, injury, disease, developmental abnormalities, or aging can lead to facial and body abnormalities requiring reconstructive cosmetic surgery.
Reconstructive cosmetic surgery aims to improve body function, restore a more natural appearance and boost the patient's confidence.
At Rejuvena Cosmo Care, Dr. Deepesh Goyal offers advanced and result-oriented reconstructive cosmetic surgery in Jaipur with excellent results. He is one of the most skilled reconstructive cosmetic surgeons in Jaipur.
Moreover, Dr. Deepesh Goyal is well-known for his expertise in cutting-edge and minimally invasive plastic surgery in Jaipur.
Now, let's discuss about,
Different Types of Reconstructive Surgeries
Reconstructive surgery is performed to treat various conditions, including:
Breast problems
Usually, women who underwent a total or partial mastectomy opt for breast reconstruction.
Breast reduction is a procedure that reduces the size of the breast. This may be necessary if you have discomfort, a rash underneath your breasts, or back pain due to large breasts.
It is sometimes required after a tumor is removed or after a trauma. Orthognathic surgery is the procedure for jaw straightening.
Surgery to change one's gender (transfeminine/transmasculine).
Other common reconstructive procedures include cleft lip and palate repair.
This is only a small list of the procedures available. Trauma, cancer, and infection-related problems can be repaired by reconstructive surgery.
Let's know,
Who is a Candidate for Reconstructive Cosmetic Surgery?
Patients of all ages can benefit from reconstructive cosmetic surgery, such as:
An infant with a congenital condition, such as craniofacial abnormalities or cleft lip.
A young adult involved in an accident.
An elderly adult with an aging problem.
Now, let's understand,
Procedure of Reconstructive Cosmetic Surgery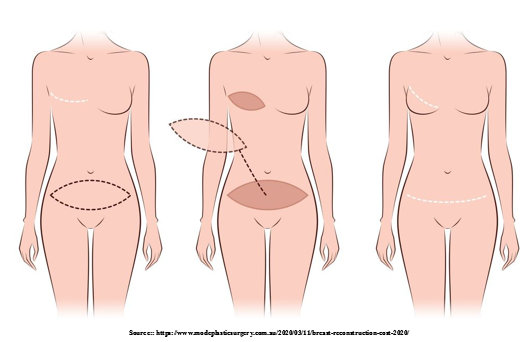 Plastic surgeons employ a variety of methods and procedures in reconstructive cosmetic surgery.
Breast reconstruction after a mastectomy, repair of post-operative and post-traumatic defects, and other reconstructive cosmetic surgery procedures are all performed by plastic surgeons.
Furthermore, surgeons can perform microsurgeries in this type of surgery to transfer tissues to cover the affected region where local tissue is insufficient.
Muscles, fats, free skin flaps, or a combination are thus removed from one part of the body and transferred to another.
Dr. Deepesh Goyal, our proficient reconstructive cosmetic surgeon in Jaipur, aims to reduce scar visibility to the greatest extent possible. He also ensures that the patients get the most satisfying and desired results after their reconstructive cosmetic surgery in Jaipur.
What are the Benefits of Reconstructive Cosmetic Surgery?
Reconstructive surgery restores your body after an injury, a disease, or correct congenital disabilities.
It heals not only your body but also your mind and spirit.
It also boosts confidence, enhances mental health and social image, and gives a positive mind frame.
What are the Risks and Side-effects of Reconstructive Cosmetic Surgery?
Every surgery carries some level of risk. Common ones when it comes to reconstructive surgery are:
Reaction to anesthesia.
Bleeding.
Blood clotting.
Infection.
Healing problems.
Tiredness.
Consult your healthcare providers if you have any concerns about the risks.
Complications are more likely to occur if the patient:
Starts smoking.
Have a connective-tissue injury or radiation-induced skin damage.
Have a slowed blood flow at the operated site and a weakened immune system.
Have poor dietary habits.
Other risks may exist, depending on the patient's medical condition.
Discuss any concerns you have with the surgeon before the surgery.
Get in touch with us if you are interested in reconstructive cosmetic surgery in Jaipur to learn more about the procedure, the results, the expenses, and other details.